The current model is the Pitts S-2C, a two-place airplane capable of unlimited category competition and universally recognized as "the" aerobatic trainer, as it can legally carry both instructor and student, including fuel reserves, during all hard aerobatic training sessions. There have been some 700 factory manufactured Pitts and an estimated 600 that have been built from plans or kits in the period before 1984.
THE HUSKY A-1B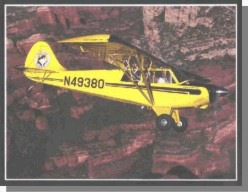 The Husky, conceptually based on the world famous Super Cub, is a completely new design, created in 1986 and fully certified in 1987. It was designed to do all the things that the Cub pilot used to say, "I wish it would do that!!!" - In other words an improvement on the world's favorite airplane. Over 650 have now been made and are in use all over the world. The Husky is fully FAA certificated and is in use throughout Canada, Australia, South Africa, all major European countries, Asia, and several South American countries. Used as an observation platform by law enforcement agencies, power and gas companies, environmental protection agencies and many others, it also is proven to have the power to be a very effective glider tug or to be used for banner towing, apart from being used as just a fun airplane for the sheer joy of flying.
THE EAGLE II KITPLANE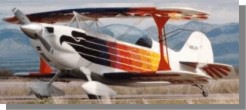 This is the famous homebuilt kit of a very similar design to the Pitts, which was created by Frank Christensen. The Eagle also formed the famous "Eagles Flight Team" which was the longest continuous airshow team in the United States, running for 25 years. Famed as one of the most comprehensive and best kits of all time, the Eagle comes complete with 32 manuals (one for each kit subsection) that have been designed to lead the novice builder smoothly through the process of building his own airplane.
OTHER PRODUCTS
xThe company does not need to rely solely on the sale of new aircraft for its revenue. A customer service provides service work for our machines, both homebuilt and factory built. Aircraft owners often prefer their airplane to be maintained by the factory due to its specialist nature. This growing area of the operation provides services ranging from annual inspection to complete rebuild and refurbishment or restoration.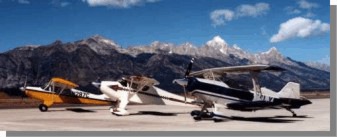 The strength of the Aviat management team stems from the combined expertise in both management and technical areas. This has produced outstanding results.
Mr. Stuart Horn, President. Mr. Horn, with an extremely successful background in real estate development, acquired Aviat Aircraft Inc. in 1996. He immediately made some dramatic organizational changes, emphasized fundamentals and refocused the core business of the company. His forward-looking vision has more than tripled the company's sales as of 2000.
Mr. Bob James, Director Sales & Marketing. Mr. James' background includes Chief Executive Officer for numerous Fortune 500 Hundred firms as well as an aerospace engineer. His skills are in retail and dealer distribution. He adds immeasurably to Aviat Aircraft Inc.
Mr. Mark James, National Sales Manager. Previous experience includes Area Manager & Vice President for a large Fortune 500 Company that supplies central station monitoring software to the security industry. He has been a commercial/instrument pilot since 1988.
Mr. Kelly Christensen, Controller. An expert troubleshooter, Mr. Christensen assures that any problem remains small. He has implemented new computer and software systems to keep the company up to date and as efficient as possible.