Augusta
an AgustaWestland Company
Agusta, an AgustaWestland company, belongs to the restricted group of helicopter companies which are leaders at world level, both for the complete range of products and services it offers and for its technological know-how strengthened by a tradition that goes back to the origins of aviation. A new chapter in the Agusta's history was opened in July 2000 when Finmeccanica S.p.A. and GKN plc announced that they have finalised their agreement to merger their respective helicopters subsidiaries Agusta and GKN-Westland Helicopters. The new joint venture company is named AgustaWestland and share Agusta and Westland's products, resources and experience. AgustaWestland is a world-class alliance committed to delivering outstanding products and services to its customers whilst maximising value for its shareholders.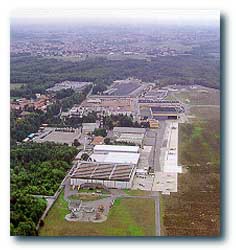 Cascina Costa plan
Agusta can satisfy the most exacting requirements of civil and military customers with models that cover all the principal weight categories and which can be adapted to the requirements of the most wide-ranging missions that can be carried out by helicopters today. A complete company quality system, covering every activity from the initial definition of the customer's requirements through to their fulfilment, guarantees the quality level required for Agusta products. This result has been made possible by Agusta's command of all the key technologies necessary for the development and construction of the modern helicopter: the design and production of transmissions, rotor heads and blades, structures in metal or composite material and avionics systems together with the integration of all these components in a complete "helicopter system". You are invited to discover for yourselves a patrimony of technology and of human resources in a story that started almost 100 years ago and which will continue beyond the year 2000

History
Agusta has a tradition as long as the history of aviation. Its founder, Giovanni Agusta, flew his first airplane in 1907 and from 1923 onwards the company was active in the design, production and maintenance of fixed wing aircraft at Cascina Costa plant.

Agusta entered the world of vertical flight in 1952 after signing an agreement with the American company Bell to produce its helicopters under license. Similar accords were reached in the '60s with the other major US producers: Sikorsky, Boeing and McDonnell Douglas.
Agusta did not limit itself to production under licence: starting from this experience, and in a relatively short time, independent research and development capacity was created. The numerous projects and the experimental work carried out at the end of the '50s led to the construction of no less than nine prototypes, all flight tested with success. The innovations associated with two of these models, the A101G and the A106, allowed Agusta to enter, as a full member, the restricted club of companies able to produce independent helicopter designs
Agusta's place amongst the leaders in vertical flight was secured with the A109 (commercial and military) twin turbine helicopter, a design with innovative features and high performance that was realised entirely at Cascina Costa. Still in production in the new versions developed later, many hundreds of its civil, military and public utility variants have been manufactured: the universal reputation it enjoys is a demonstration of Agusta's command of helicopter technological know-how.
A fundamental stage in Agusta's development of helicopter technology was reached subsequently in 1983 with the first flight of the A129 Mangusta anti-tank helicopter, the first attack helicopter to be designed and produced wholly in Europe, which demonstrated Agusta's capacity to satisfy the most complex technical requirements. The success of these models opened up for Agusta the road of co-operation with other European helicopter manufacturers in joint defined projects.
In 1981 the design of the EH101 (commercial and military) was initiated in collaboration with Westland of the U.K., in line with the requirements of the Italian and British navies. 1985 saw the launch, in collaboration with the aeronautic industries of France, Germany and the Netherlands, of the programme for the development of the NH90, a twin engine multi-role helicopter of 9 tons which will meet the medium helicopter requirements of these countries' armed forces.
In 1994 Agusta's own product range was widened by the introduction of a new version of A109 denominated A109 Power, in 1995 by the A129 International and 1997 by the A119 Koala . In 1998 Agusta signed an agreement with Bell Helicopter creating a joint venture called Bell/Agusta Aerospace Company for the development of the AB139 helicopter and the BA609 Tiltrotor, products that open a new chapter in the company's history