Antonov
Tupolev Str.,1, Kiev, 252064 Ukraine
Tel.: (7-044) 442-7098
Fax: (7-044) 442-7098
Telex: 131309 OZON
A Ukraine-based aircraft manufacturer that has concentrated on building transport aircraft. These range from the large, rugged An-2 biplane through the An-28 reconnaissance aircraft to the massive An-124 and An-225 cargo carriers. Whilst less famous, the An-24, An-26 and An-30 series of twin turboprop, high winged, passenger transport aircraft are important for domestic air services particularly in parts of the world once led by communist governments. The An-72 and An-74 series of small jetliners is slowly replacing that fleet and a larger An-70 freighter is under development. The latter is outwardly similar to the Airbus A400M design that has yet to fly in western Europe.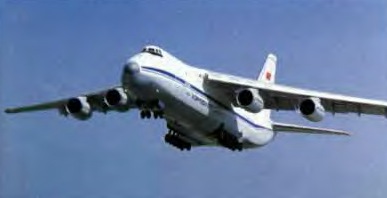 Antonov Aviation Scientific-Technical Complex aircraft
Antonov Aviation Scientific-Technical Complex was founded in 1946 by a famous aircraft designer Oleg Antonov. More than one hundred types and modifications of airplanes of different classes and purposes have been designed since the Complex creation. Among them should be mentioned: multipurpose transport planes An-2, An-74; cargo planes An-8, An-12, An-22 Anthey, An-26, An-32, An-72; super heavy-lifters An-124 Ruslan and An-225 Mriya; passenger planes An-10, An-14, An-24, An-28; special purpose planes - aerial photography An-30, meteolab An-30M, water bomber An-26P, search and rescue An-26M, polar version An-74 etc.

The total of 22000 Antonov airplanes have been built. The advantages of these planes are the structure reliability and economic efficiency, universal transport features, possibility to operate from unpaved airfields and the simplicity of maintenance.
From its very creation in 1961 V/O AVIAEXPORT as a foreign trade organization has closely cooperated with Antonov Complex. More than 1400 Antonov planes of different types have been supplied by V/O AVIAEXPORT to about 40 countries of the world: An-2 - about 530 pcs.; An-24, An-26 - more than 760 pcs.; An-30, An-32 - more than 240 pcs.

At present time V/O AVIAEXPORT is offering following new aircraft to sell: An-32 general purpose cargo airplane produced by Aviant Kiev State Aviation Plant (Ukraine), An-38 turboprop multipurpose regional plane produced by Novosibirsk aircraft manufacturing association and An-74 multipurpose transport plane produced by Kharkov State Aviation Manufacturing Company (Ukraine) and Polyot Omsk Manufacturing Association and An-124 heavy lift transport airplane produced by Aviastar JSC (Ulyanovsk).