Bell Helicopters
Jorge Gazzola
Helicopter History Site
http://www.helis.com
In the early 1930 's, Arthur Young , a brilliant young inventor, built and successfully demonstrated a viable, flyable helicopter model.
Larry Bell , a successful entrepreneur and founder of the Bell Aircraft Corporation , was so impressed with Young's efforts that in 1941 he set the youthful inventor up in a small shop in Gardenville, New York

At that time Bell was already a manufacturer of conventional aircraft such as the WWII fighter P-39 Airacobra and the P-59, America's first jet-powered airplane. In addition, Bell was to develop the X-1, which was to become the world's first super- sonic plane.

By 1951, Bell helicopters were in service around the world, breaking records as fast as they were setting them. And since Bell Aircraft Corporation's reputation for helicopter manufacture began to rival its reputation as a builder of conventional aircraft , the company created a separate helicopter division which was headquartered in Fort Worth, Texas.
Today, with Bell helicopters flying in more than 120 different countries , they are logging another ten hours every minute of every day.

1935 : Bell Aircraft Corporation. 56 employees make up the entire staff of the newly found Corporation.
1941 : Development begins on the first Bell helicopter. With a tethered control line model, Arthur Young proves his invention is workable.
1942 : Gardenville, New York becomes the site for Arthur Young and his apprentice, Bartram Kelley to produce a full-size vertical takeoff aircraft.
1943 : Bell 30

| | |
| --- | --- |
| | The ship #1 nicknamed Genevieve flies for the first time |
1945 : Bell 47 ( H-13 Sioux )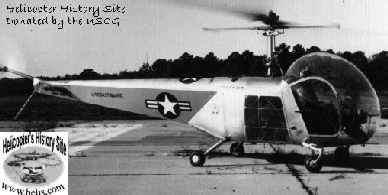 The Model 47 would subsequently set the stage for a whole new industry.

March 8, 1946 : The Bell 47 receives Helicopter Type Certificate No. 1 : NC-1H . It's the first one ever granted by the Civil Aeronautics Board ( forerunner of the FAA )
1946 : Bell establishes the first flight training school for commercial helicopters pilots . In December, first production helicopters are delivered to the US Army.
1949 : Bell 54 ( YH-15 ) A utility helo for the USAF with a gross weight of 1225 kg
1950 : Bell 48 ( YH-12 ) 13 units built.
1951 : Bell Helicopter division moves to Hurst, Texas
1952 : Agusta Spa licensing agreement to built Bell helicopters in Italy
March 4, 1953 : Bell 61 ( HSL-1 ) First world's helicopter designed for ASW (antisubmarine warfare) 50 units built then replaced in the US Navy with the Sikorsky S-58 ( HSS-1 then SH-34 )
April, 1953 : 1000th helicopter rolls off the Bell assembly line
1954 : XH-13F A derivative of the Bell 47, it is the first Bell turbine helicopter.
August 23, 1955 :
Bell 200 ( XV-3 ) [ XH-33 ]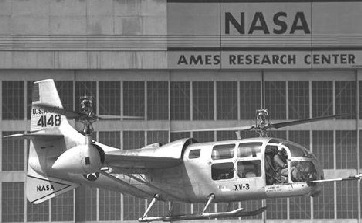 A revolutionary concept, this aircraft converts from takeoff in helicoper mode to straight and level flight like an airplane. Starting built in 1953, this experimental aircraft flew until 1966, proving the fundamental soundness of the tiltrotor concept and gathering data about technical improvements needed for future designs.
October, 1956 : Bell 204 "Huey" ( UH-1 ) US Army 's first production-line turbine powered utility helicopter.

The Huey is the most representative helicopter of the Vietnam era.
1957 : Name changed to Bell Helicopter Corporation
1958 : The XV-3 makes the first conversion of tilting prop-rotor aircraft.
1960 : Spacecraft Recovery Rotor
1960 : Textron Inc. Textron purchases the defence activities of Bell Aircraft and set ups Bell Aerospace Corp as a wholly owned subsidiary with three divisions.
1962 : Bell 207 Sioux Scout. A derivative of the Bell 47, this gunship concept demonstrator, was a very important step for Bell and will end in the Model 209 years later.
1962 : Bell 533 HPH. An UH-1B modified for research with sweptback wings and side-mounted turbojet engines.
1963 : Bell 206 ( YOH-4 ) .Not produced, lost US Army LOH ( Light Observation Helicopter ) competition against the Hughes OH-6 (the winner) and the Hiller FH-1100 ( YOH-5 ). However, Bell continue this model that will end in the Bell 206A civilian series and later acquired by the militaries as the H-57/58 .
1963 : Bell 204B ( H-48 ) Hueys modified as missile site support helos.
March 27, 1965 : Bell 208. An UH-1D reengined with two Continental turbines, was the first twin turbine helicopter built by Bell.
January 10, 1966 : Bell 206A JetRanger
1966 : Bell receives a contract for 2115 UH-1 Iroquois. A unique radar antenna is built into a blade and successfully tested.
March 17, 1966 : X-22 Tiltrotor, experimental.
Bell 209 Huey Cobra ( AH-1 ) In 1966, the US Army made a request for a interim gunship helicopter to be complete in one year to be deployed in Vietnam. The winner was the Bell 209 Huey Cobra against gunship derivatives of the Kaman SeaSprite, Boeing Vertol Chinook, Piasecki Pathfinder and Sikorsky S-61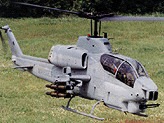 1967 :
Bell 205A ( UH-1D )
1967 : Huey Cobras first deployed to Vietnam
1968 : TH-57 SeaRanger & OH-58A Kiowa.The US Navy and US Army variants of the Bell 206A.
1969 : Bell 300 Mock-up. Tiltrotor development continues.
1970 : Bell 212 ( UH-1N )


Twin-turbine Hueys
After the successful of the Models 204 / 205, Bell joined Pratt & Whitney Canada for develop a twin engine derivative, the result was the Model 212 Twin Two Twelve , soon followed by the Model 214 that was a lengthened version (single engine) of the Bell 205.
In 1979 appear the Model 412 with a 4 blades main rotor
Sept. 10, 1971: Bell 309 King Cobra.Due the US Army 's AAFSS ( Advanced Aerial Fire Support System ) competition was cancelled ( See Lockheed Cheyenne ) , Bell designed the model 309 King Cobra as a company-funded project, like Sikorsky does with the S-67. Only two units of the KingCobra were built, but some of the improvements, were applied in the next version of the Model 209 Cobra for the US marines, the AH-1T.
1972 : Bell 214 Huey Plus / Big Lifter . Was first developed for Iran
1974 : Bell commemorates the delivery of it 20000th helicopter
October 1, 1975 : Bell 409 (YAH-63) Developed from the Model 309, two units were built for the US Army AAH ( Advanced Attack Helicopter ) program. Lost competition against the Hughes YAH-64.
1976 : New Name : Bell Helicopter Textron Inc. The 2000th JetRanger roll out.

1977 :
Bell 222 America 's first commercial midsize twin-turbine helicopter
May 3, 1977 : Bell 301 ( XV-15 )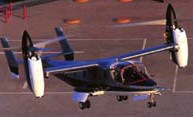 1978 : Bell 214ST A 19 place twin-engine stretched version of the 214
1979 : Bell 412 The four-bladed version of the Bell 212
1979 : First sale of US helicopters to China, 8 Bell 212s
1980 : The first trasatlantic LIGHT helicopter crossing is completed ( 5100 miles ) by German pilots Karl Wagner and Warner Roschlau in a LongRanger II
1981 : Delivery of the 25000th helicopter, a 222. Bell is selected as a contractor for the ACAP ( US Army Advanced Composite Airframe program )
1982 : Bell 222B
1982 : Bell join Boeing in the JVX program ( Joint Services Vertical Lift Aircraft ) that will end in the V-22 Osprey. New sale of 55 TH-57C advanced instrument trainers to the US Navy. The XV-15 demonstrates its capabilities during three days of navy trials aboard the assault carrier USS Tripoli. Ross Perot Jr and Jay Coburn become the first pilots of an around the world flight in the Spirit of Texas, a Bell JetRanger II. The flight departed 9/1/82 and returned 9/30/82. It was 29 days, 3 hours, 8 minutes, 13 seconds. The average speed was 56.97 km/h.

Australian pilot Dick Smith departs from Bell in a JetRanger III to fly the first solo flight around the world. ( 35.258 miles ) On August 9, Smith lands in the UK after making the first solo helicopter crossing of the Atlantic Ocean
1983 : AHIP An Army Helicopter Improvement Program prototype makes ir first flight and completes tests with a full-up mast-mounted sight.
1983 : AH-1T+ Super Cobra The Canadian government selects Bell to establish a helicopter industry in that country. Bell Helicopter Canada is formed.
1984 : Bell 406 Combat Scout ( OH-58D Kiowa Warrior ) AHIP program.

1985 :
Bell 412SP Special Performance
1985 :
A four-bladed Bell Cobra research aircraft performs tactical manoeuvres without pilot hand control . The tests are part of the US Army 's Advanced Technology Integration ARTI program. The AH-1T+ is redesignates AH-1W The Model D292 developed for the US Army 's Advanced Composite Airframe Program ACAP makes its initial hover flight.
1986 : The V-22 Osprey after winning a Billion-dollar award from the US Navy is approved for full-scale development by the Department of Defence. The JetRanger III and the LongRanger III are produced in Quebec, Canada. The first production OH-58D is delivered to the US Army. The US Marines take delivery of the first production AH-1W Super Cobra,
1987 : Bell and Boeing announce the development of the Pointer , the world's first tiltrotor unmanned air vehicle. ( UAV ) The XV-15 demonstrates civilian applications of tiltrotor aircraft in Chicago and Washington DC
1988 : Bell Boeing Pointer Commercial production of the JetRanger III reaches the 4000 mark. Bell delivers the 100th helicopter built at the Mirabel, Quebec Plant.
March 19, 1989 :
Bell / Boeing 901 Osprey (V-22)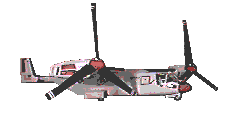 1989 : Bell announces development of the Bell 230, a significantly improved version of the popular Bell 222. Bell flies its Model 680 all-composite, four bladed bearingless rotor system for the first time on an AH-1W.
1991 : Bell UAV Eagle Eye


| | |
| --- | --- |
| | Tiltrotor Unmanned Air Vehicle |
1991 : Bell delivers the 500th helicopter built at the Mirabel, Quebec Plant.
August 12, 1991 : Bell 230

1992 : Canada announces the purchase of 100 Bell 412 for its defence forces nicknamed CH-146. US Army conducts a ceremony at Fort Rucker to honour Bell UH-1H Iroquies serial 62-02109 achieving 20.000 flight hours. The aircraft was built in 1962 and was flown in Vietnam for five years before it became a training helicopter at the Army 's Aviation School.
1993 : TH-67 Creek A modified 206B-3, US Army awards Bell an $85 million contract to build 102 new training helicopters to replace the TH-1 Huey
1993 : Bell 206LT TwinRanger Twin engine version of the 206L-4
1994 : Bell 407 The new light four-bladed single engine helicopter
1994 : Bell 430 The new Bell 230 had a four-bladed main rotor
1995 : Bell 427 The twin engine version of the Bell 407
1998 : Bell 209 Cobra Lifter A Civilian Crane variant of the Cobra
1999, Oct 8 : Bell / Agusta 609 Tiltrotor announced
2000, Nov 1st :
World 's First Commercial Tiltrotor Academy
2000, Dec 7 : Bell 449 "Super Cobra" ( AH-1Z )
2001, Feb 3rd : Agusta / Bell AB139 A medium twin helicopter, completed its first flight at Agusta's flight test facility in Cascina Costa di Samarate, Italy.
21st Century : Bell Quad Tiltrotor
2002 : Textron has ordered work to stop on the Bell Agusta 609 Tiltrotor
2002, Feb 14 : 3 AB139 flying