Hunting Percival
Hunting Aircraft was a British aircraft manufacturer, primarily producing light training aircraft. The company was originally formed as Percival Aircraft Co in Gravesend in 1933, before restructuring in 1936, when it became Percival Aircraft Ltd, and moved to Luton. The company became part of the Hunting Group in 1944, changing its name to Hunting Percival Aircraft in 1954 and finally to Hunting Aircraft in 1957. In 1959 it was forced to merge with the Bristol Aeroplane Company, English Electric and Vickers-Armstrong to form the British Aircraft Corporation (BAC), later to become part of British Aerospace, now BAE Systems.
1932: Capt. Edgar Percival and Lt.-Cdr. E.W.B. Leake form Percival Aircraft.
1944: Percival Aircraft becomes part of the Hunting Group.
1954: Company name changed to Hunting Percival Aircraft.
1957: Company changes name to Hunting Aircraft.
1960: British Aircraft Corp. (BAC) purchases controlling interest.
1965: Cancellation of the TSR.2 leads to closing of Hunting Aircraft.
History
Edgar Wikner Percival (1897 - 1984)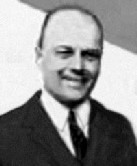 Edgar Wikner Percival
A brilliant aircraft designed and pilot, Edgar Percival was born in 1898 at Albury, Australia. Albury and its sister town Wadonga sit either side of the Victoria/News South Wales border.
Following service and a Captaincy with the Royal Flying Corp during World War 1, Percival operated his own charter company in Australia before returning to England where he was appointed as an Air Ministry test pilot.
His interest in aircraft design led him to form his own aircraft company at Gravesend, Kent in 1934.
Percival's aircraft were noted for their graceful lines and outstanding performance. Charles Kingsford Smith flew a Percival Gull Four named 'Miss Southern Cross' from England to Australia in the record breaking time of 7 days 4 hours and 44 minutes.
The New Zealand aviatrix, Jean Batten, also used the Percival Gull to fly from England to Australia in October 1936.
The Proctor was the military communications version of the Gull. It was designed to carry four people in comfort and was powered by a 200 hp Gipsy Six engine.