The Jabiru 3300cc Aircraft Engine is a 6-cylinder 4-stroke horizontally opposed air cooled engine.
Overall dimensions are extremely small. It's 596mm (23.46") width allows tractor applications with very small frontal areas. The Jabiru engine is designed for either tractor or pusher installation.
At 81kg installed weight the Jabiru 3300 Aircraft Engine is an ideal replacement for the 100-120 hp equivalent which power many of the existing "experimental" aircraft.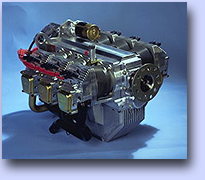 4 Stroke

3300cc (200 cubic inches)

6 Cylinder Horizontally Opposed

1 Central Camshaft

Fully Machined Aluminium Alloy Crankcase

Over Head Valves (OHV) - Push Rod Operated

Ram Air Cooled

Wet Sump Lubrication - 4 litre capacity

Direct Propeller Drive

Dual Transistorised Magneto Ignition

Integrated AC Generator

Electric Starter

Mechanical Fuel Pump

Naturally Aspirated - 1 Pressure Compensating Carburettor