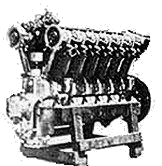 The Liberty was a U.S. Army project to provide large numbers of aircraft engines in the minimum amount of time. The engine was designed by Packard and Hall-Scott incorporating design concepts from both engine manufacturers.
Intended for production in 4, 6, 8 and 12 cylinder models, only the 12 cylinder was produced in large numbers.

Liberty was not an actual manufacturer but an engine designed and manufactured by established automobile engine factories.
Liberty 12
Design on the Liberty 12 began on 30 May 1917 and testing on 3 July of the same year! By November 1918 over 20,000 had been built. A reliable engine, thousands remained in use into the mid 1930s.
Allison developed an inverted, air-cooled version. This inverted vee had a smaller displacement and was designated the V-1410.
models
Liberty 12: 400 hp (298 kW)
specifications
12-cylinder, vee water-cooled piston engine
Displacement: 1,649 cubic inches (27 litres)
used by
de Havilland DH-4
Loening OA-1
Packard-Le Pere LUSAC 11