Pratt & Whitney R-1830 Twin Wasp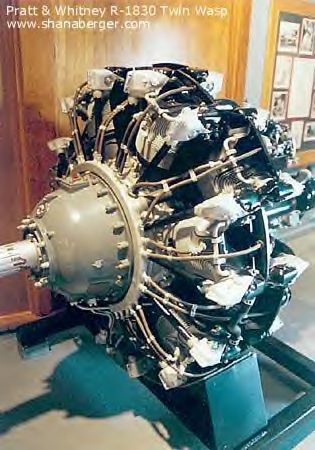 In 1927, Pratt & Whitney began researching twin-row radial engines. One result, the R-1830 Twin Wasp, first flew in 1931. It was one of the most efficient and reliable engines of the 1930s.

The R-1830 was in production from 1931 through 1951. Over 173,000 were produced, more than any other aircraft engine (per Pratt & Whitney).
models
R-1830-9: 950 hp (708 kW)
R-1830-S1B3G: 1,000 hp (745 kW)
R-1830-S1C3G: 1,200 hp (895 kW)
R-1830-13: 1,050 hp (783 kW)
R-1830-24: 1,050 hp (783 kW)
R-1830-36: 1,200 hp (895 kW)
R-1830-65: 1,200 hp (895 kW) w/turbocharger
R-1830-92: 1,200 hp (895 kW)
specifications
14 cylinder, air-cooled, two-row radial
displacement: 1,830 cubic inches (30 litres)
Bore x stroke: 5.5 x 5.5 inches
used by
Seversky AT-12 Guardsman
Consolidated B-24 Liberator
Douglas DC-3/C-47
Grumman F4F Wildcat
Seversky P-35
Curtiss P-36 Hawk
Republic P-43 Lancer
Consolidated PBY Catalina
Laird-Turner RT-14 Meteor
Douglas TBD Devastator
Martin XB-14