Pratt & Whitney R-2800 Double Wasp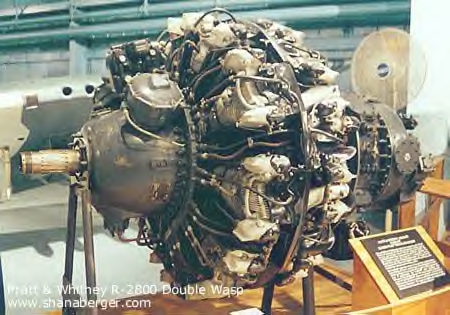 In 1936, Pratt & Whitney began work on the R-2800 Double Wasp. The first R-2800 flew in 1939. In 1940, an R-2800 powered XF4U-1 reached 405 mph in level flight, a world record for a military aircraft.
The Double Wasp was in production from 1939-1960 with over 125,000 being produced.

models
R-2800-5: 1,850 hp
R-2800-8: 2,000 hp (1491 kW)
R-2800-9: 1,850 hp
R-2800-10W: 2,000 hp (1491 kW) with water injection
R-2800-27: 2,000 hp (1491 kW)
R-2800-31: 2,000 hp (1491 kW)
R-2800-34W: 2,100 hp (1566 kW) with water injection
R-2800-41: 2,000 hp (1491 kW)
R-2800-43: 2,000 hp (1491 kW)
R-2800-50: 1,900 hp (1417 kW)
R-2800-59W: 2,535 hp (1890 kW) with water injection
R-2800-85: 2,100 hp (1566 kW)
R-2800-99W: 2,300 hp (1715 kW) with water injection
R-2800-CB16: 2,500 hp (1864 kW)
specifications
18 cylinder, air-cooled, two row radial
displacement: 2,804 cubic inches (46 litres)
Bore x stroke: 5.75 x 6 in
used by
Douglas A-26 Invader
Martin B-26 Marauder
Curtiss C-46 Commando
Lockheed C-69 Constellation
Fairchild C-82 Packet
Fairchild C-123 Provider
Douglas DC-6/C-118/R6D
Vought F4U Corsair
Grumman F6F Hellcat
Grumman F7F Tigercat
Grumman F8F Bearcat
Sikorsky H-37 Mojave
Republic P-47 Thunderbolt
Northrop XP-56 Black Bullet
ConvairLiner/T-29/C-131
Lockheed PV-1 Ventura