Beechcraft 76 Duchess history, performance and specifications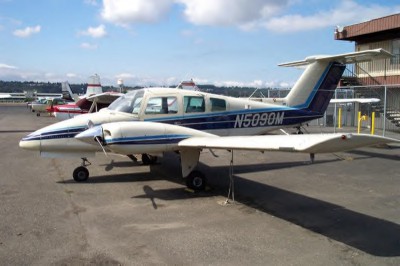 The Beechcraft Duchess 76 is a light cabin monoplane built in the U.S.A. It is powered by two 180hp Avco Lycoming O-360-A1G6D six-cylinder horizontally-opposed engines. The Beechcraft Duchess 76 accommodates a pilot and three passengers in individual seats, with a provision for up to 180lb (81,6kg) of baggage in a separate compartment.

The prototype first flew in September 1974 and after production of the Duchess started in the spring of 1977, first aircraft deliveries started in 1978. A total 0f 437 aircraft were built until 1982.
The Beechcraft Duchess 76 has become a very popular pilot training plane.
Performance -
Max. speed - 197mph (317kmh)
Max. cruising speed -
191mph (307kmh) @ 3,600lb (1634kg) and @ 6,000ft (1830m)
Normal cruising speed -
176mph (283kmh) @ 10,000ft (3050m)
Economic cruising speed -
172mph (277kmh) @ 12,000ft (3658m)
Range at econ. cruise -
898mls (1445km) with 45 minutes reserves
Initial climb - 1,248ft/min=6,3m/sec.

Weights -
Empty weight -
2,446lb (1110kg)
Max. take-off weight -
3,900lb (1770kg)

Dimensions -
Span - 38ft0in (11,58m)
Length - 29ft0in (8,84m)
Height - 9ft6in (2,89m)
Wing area - 181sq.ft (16,81m▓)