Messerschmitt-Bolkow-Blohm - Bo 208C Junior performance and specifications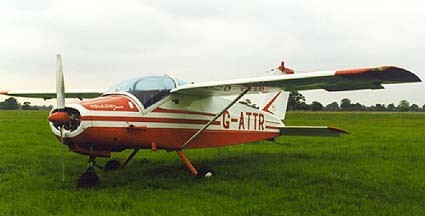 History And Notes
Working in the United States, Swedish freelance designer Bjorn Andreasson evolved a light-metal two-seater under the designation BA-7, Powered by a 75-hp (56-k W) Continental A-75 engine, the prototype was first flown on 10 October 1958, originally with one-piece, all-moving tail surface, although a fixed fin with a conventional rudder was later substituted. The aircraft was developed for production by AB Malmo Flygindustri in Sweden as MFI--9 Junior flew on 9 August 1962.

Bolkow Apparatebau GmbH at Nabern/tech in Germany acquired a manifesting liecence in 1961 and the first German-built example, designated Bolkow 208, flew in April 1962. German certification was awarded on 22 April 1963 and May 1964 the model 208B was introduced, identified by its electrically operated flaps; an optionally-available wing increased both span and area. The model 208B was certificated on 20 May 1065, and production of all models ceased in mid-1969 after a run of 210 aircraft, making way for the Bolkow 209 Monsun. The specification applies to the Bo 208C.
Specifications
Type: Two seater light monoplane

Powerplant: One 100-hp (75-kW) Continental O-200-A flat-four piston engine.

Performance: Maximum speed 143 mph (230 km/h) at sea level: cruising speed 127 mph (204 km/h): service ceiling 14,100 ft (4300m): range 620 miles (998 km)

Weights: Empty 835 lb (379 kg): maximum take-off 1,375 lb (624 kg)

Dimensions: Span 26 ft 0 in (5.79 m): height 6 ft 6 in (1.98 m): wing area 100.9 sq ft (9.37 m2)
The Bo 208 ultralight was the West German equivalent of the MFI-9 Junior designed by Bjorn Andreasson. About 200 were built by Bolkow under license, while the parent company produced only 25 civil models.