Diamond DA 42 Twinstar performance and specifications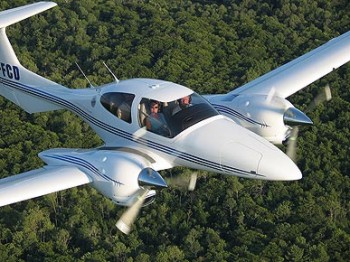 DA 42 Twinstar
The Diamond DA-42 Twin Star is an all new four place carbon fibre construction light twin powered by jet fuel burning turbo diesel engines.

Austria's Diamond Aircraft unveiled the DA-42 at the May 2002 Berlin Airshow. The new aircraft flew on December 9 2002, leading to European JAA certification in late 2003 and US FAA certification and first deliveries in mid 2004.

The Twin Star's design objectives include high speed cruise at very low throttle settings and good low speed handling. It is loosely modelled on Diamond's DA-40 Diamond Star single engine four place (see separate entry), and features an all composite airframe with a high aspect ratio wing with winglets.

The heart of the Twin Star is its two Thielert Centurion 1.7 (formerly TAE-125) turbo diesel four cylinder engines, which are designed to run on either diesel or Jet-A1/jet fuel. Germany based Thielert's Centurion turbo diesel engine was certificated in early 2002 and is based on a Mercedes-Benz automotive design. Diamond expects the DA-42's two engines will burn just 45 litres an hour while cruising at a very fast 333km/h (180kt). Standard fuel capacity is 200 litres, while optional long range tanks take maximum fuel capacity to 280 litres.

The engines drive slow turning three blade constant speed propellers, which combined with the engines' low noise emissions and the DA-42's fast climb rate will result in a low ground noise signature. The engines also feature electronic fuel management, automatic prop controls and auto feather.

The Twin Star will feature dual controls and an optional EFIS glass cockpit with three vertical format colour LCDs. The basic aircraft will be equipped with conventional IFR avionics.
Diamond Aircraft says the DA-42 will be suitable for flight training as well as private and business use.

Embry-Riddle Aeronautical University was the launch customer with an order for 10, and Lufthansa ordered 40 for its pilot training school. Another customer is PureFlight of the UK which ordered the Twin Star for its fractional ownership programme



engines
Two 100kW (135hp) Thielert Centurion 1.7 avtur burning turbo diesel four cylinder piston engines driving three blade MTV-6A-129 hydraulic constant speed propellers.

performance
Cruising speed at 95% power at 12,000ft 376km/h (203kt)
economical cruising speed 334km/h (180kt)
Initial rate of climb 1700ft/min
Max operating altitude 20,000ft
Range at 60% power with standard fuel 1912km (1061nm), with optional fuel tanks 2677km (1485nm)

weights
Empty 1030kg (2270lb)
max takeoff 1650kg (3673lb)
Payload 620kg (1366lb)

dimensions
Wing span 13,42m (44ft)
length 8.5m (27.8ft)
height 2.6m (8,5ft)
Wing area 16.5 m2 (177.2sq ft)