Gippsland A4 Airvan history, performance and specifications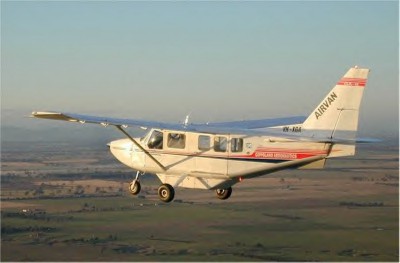 Gippsland Aeronautics of Latrobe Regional Airport in Morwell, Australia was founded by Peter Furlong and George Morgan in the 1970s as an aircraft maintenance and modification business working for large organisations such as the National Safety Council and Esso, as well as local commercial operators.
The high wing GA8 Airvan gained type certification in December 2000, was specifically designed to fill the gap between the Cessna 206 and the Cessna Caravan. The GA8 Airvan can operate on short airstrips in basic conditions for freight and passenger transport.
Gippsland Aeronautics currently produces 20 to 25 aircraft per year.
---

Engine
Lycoming I0-540-K1A5

Wing Area
19.3m2 [208 ft2]

Aspect Ratio
8:1

Cabin Floor Area
54 ft2

Cabin Internal Volume
180 ft3

Useable Fuel Capacity (Wings)
332 l (87.7 USG)

Empty Weight
997 kg (2200 lb)

Certified T.O.W.
1814 kg (4000 lb)

Vne (never exceed speed)
185 KIAS

Normal Cruise @ 4000'
118 KTAS @ 56 l/hr (14.8 USG/hr

Normal Range*
730nm (6hr)

Economic Cruise @ 8000'
104 KTAS @ 37 l/hr (9.8 USG/hr)

Maximum Range*
930nm (9hr)

* No Reserves

---
| | |
| --- | --- |
| Length: | 8.9m (29'4") |
| Width: | 12.4m (40'9") |
| Height: | 3.9m (12'9") |
| Wheel Track: | 2.8m (9'2") |







Stall Speed (0° Flap):

60KIAS

Stall Speed (38° Flap):
52 KIAS

Normal Cruise @ 4000':
118 KTAS @ 56 l/hr (14.8 USG/hr

Normal Range:
730nm (6hr)

Economic Cruise @ 8000':
104 KTAS @ 37 l/hr (9.8 USG/hr)

Maximum Range:
930nm (9hr)


Takeoff Performance Distance to 50ft:

@ 2700 RPM - 487m (1548 ft)
@ 2500 RPM - 554m (1818ft)

Landing Performance from 50ft:
371m (1218 ft)


Rate of Climb:


Noise Performance


787 ft/min (ISA Sea Level

Meets ICAO Annexe 16 Noise Requirements @ 2500RPM
& FAR 36 Requirements @ 2700 RPM