Grumman AA5 Traveler performance and specifications
Horsepower: 150
Gross Weight: 2200 lbs
Top Speed: 130 kts
Empty Weight: 1271 lbs
Cruise Speed: 122 kts
Fuel Capacity: 38.00 gal
Stall Speed (dirty): 50 kts
Range: 503 nm
Takeoff
Landing
Ground Roll: 880 ft
Ground Roll 380 ft
Over 50 ft obstacle: 1600 ft
Over 50 ft obstacle: 1100 ft
Rate Of Climb: 660 fpm
Ceiling: 12650 ft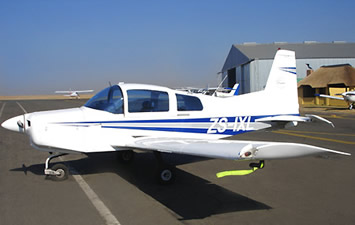 The four seat AA-5 is a larger derivative of the AA-1, and shares 60% of the smaller aircraft's structures. It is basically (to accommodate four seats), therefore heavier, and has a more powerful engine. It first flew in 1970, and first aircraft were delivered late in 1971.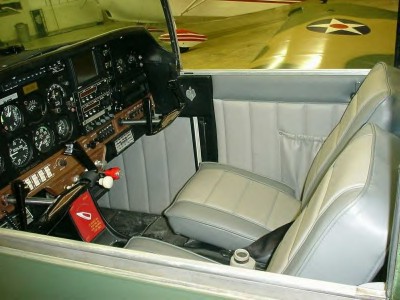 In 1972, Grumman acquired American Aviation, and released the improved AA-5B with a more powerful engine. A further upgraded model, the Tiger, was also offered.
Improvements to the basic AA-5 in 1976 led to the AA-5A and its upgraded version, the Cheetah.
In 1978, Gulfstream purchased Grumman American, and AA-5 production paused whilst production rights were sold. It was not until 1990 that American General Aircraft Corporation returned the type to production, as the AG-5B. American General stopped trading in 1994. The type is now again manufactured by Tiger Aircraft.
timeline
1962 – Legendary designer James Bede designs the forerunner to today's Tiger—the BD-1, a two-seater with interchangeable wings and horizontal stabilizer components.
1964 – Bede sells the BD-1 design to American Aviation and stays on as a consultant for the production of the plane.
1969 – Bede's design debuts as American Aviation's AA-1 Yankee. The AA-1 is the forerunner of the AA-5 series (including the Traveler, the Cheetah, and the Tiger).
1974 – Military fighter-plane manufacturer Grumman Aircraft buys American Aviation, and the company is renamed Grumman American. The company begins producing the AA-5 Traveler, a modified version of the AA-1.

1975 – The Tiger is born. Grumman's engineers put their experience building naval fighters to work in designing enhancements to the AA-5 design. Based on their changes, Grumman replaces the AA-5 Traveler with the AA-5B Tiger, which boasts a larger engine (180 hp), a higher cruise speed (143 knots), and room for four.
1978 – Grumman sells its small aircraft division to Gulfstream Aerospace, who continues production of the Tiger.
1989 – American General Aircraft Corporation purchases the Tiger design from Gulfstream and produces the plane under the model number AG-5B, with some technological advances incorporated.
1999 – Tiger Aircraft, LLC begins plans for production of the AG-5B Tiger. A new construction facility is built in Martinsburg, WV.
2001 – In a much-anticipated celebration, Tiger Aircraft announces the Type Certification for the new Tiger AG-5B, and new Tigers begin to roll off the assembly line.
2002 – Adding to its achievements, Tiger Aircraft earns the FAA Production Certificate for the Tiger AG-5B. This is the first Production Certificate granted by the Northeast FAA in 23 years. The fleet of about 1800 previously produced Tigers will now begin to welcome new flying partners.