Mooney Ovation2 DX GX performance and specifications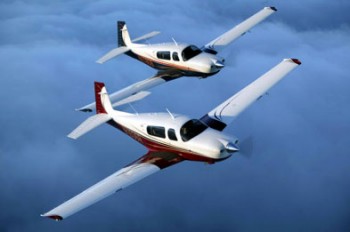 The Ovation 2 is one of the fastest single engine, normally aspirated, piston powered aircraft available today.

The secret to its improvement is in McCauley Propeller's new, super thin, two-blade propeller, available only on the Ovation2. This enhancement enables a 6 knots (TAS) increase in cruise speed over its predecessor or 192 KTAS at 8,000 feet, with a weight savings of 12 pounds. Cambered on both front and rear surfaces, the high-tech airfoil is remarkably efficient. Combined with the efficient and reliable TCM IO-550-G engine, there is an excellent mid-teen cruise performance at altitudes normally reserved for turbocharged aircraft.

Since 2003, the Ovation2 DX has moved to a complete Garmin avionics stack including the award winning GNS530/GNS430 combo, the GDL49 Nexrad Uplink, the GTX 330 Mode "S" Transponder, and the premium Bendix King KFC225 Autopilot/Flight Director as standard.
In 2004, the Ovation2 GX has been introduced with a complete Garmin G-1000 integrated avionics flat-panel system including the GDL69A Weather uplink and infotainment, the GTX 330 Mode "S" transponder, and the STEC 55X Autopilot roll and pitch.

The Ovation2 DX or GX includes supple six-way adjustable leather seats with comfortable lumbar support and Precise Flight speedbrakes.

Also available is an optional TKS Known Ice System, an optional 115.7 sq. ft. oxygen system and an optional 25,000 BTU air conditioning system.
Cruise Speed 192 KTAS @ 8000 ft.
Rate of Climb (sea level) 1,250 fpm
Best Power Range/Endurance (with reserve)
970 nm @ 9,000 ft. / 5.0 hrs.
Best Economy Range/Endurance
(with reserve) 1,240 nm @ 9,000 ft. / 7.9 hrs.
Service Ceiling 20,000 ft. (6,096m)
Engine Continental IO-550-G
Horsepower 280 MCP
TBO 2,000 hours
Fuel Capacity (usable) 89 gallons
Gross Weight 3,368 lbs.
Approx. Useful Load 1,169 lbs.
Basic Empty Weight 2,205 lbs.
Wing Span 36 ft. 1 in.
Height 8 ft. 4 in.
Length 26 ft. 9 in.
Cabin Interior Length 12.1ft.
Cabin Interior Height 3.7ft.
Cabin Interior Width 3.6ft.
Wing Loading 19.3 lbs/sq. ft.
Power Loading 12.0 lbs/hp