Percival Vega Gull performance and specifications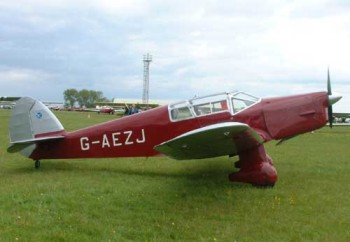 The Percival Vega Gull was a pre-war civilian version of the Percival Proctor, which was also a development of the pre-war Gull. The prototype D.1 Gull (G-ABUR), a three seat tourer first appeared in 1932. This was followed by the D.2 which was more commonly known as the Gull IV. In 1934 Percival introduced the D.3 Gull Six which featured the DH Gipsy Six engine, improved undercarriage and cabin arrangements, but retained the Gull IV folding wing. It was in a Gull, G-ADPR that New Zealand Aviatrix Jean Batten set many of her records.
In November 1935 the four seat K.1 Vega Gull was introduced. Powered by the same DH Gipsy Six engine this introduced dual controls and flaps, and was very successful with 90 being produced up till July 1939.
type: Four seat communications aircraft.
country of origin: Britain.
engine: One D.H. Gipsy Six piston engine of 200 hp
dimensions

Wing span: 39 ft 6 in / 12.04 m


Length: 25 ft 6 in / 7.77 m


Height: 7 ft 4 in / 2.23 m.
weights

Empty: 1,575 lb / 714 kg


Loaded: 2,750 lb / 1,247 kg
performance

Max. speed: 147 kts / 273 kph


Cruising speed: 139 kts / 257 kph


Initial climb: 1,000 ft/ 305 m. per min


Service ceiling: 18,000 ft / 5,486 m.


Range: 539 n.mls / 998 km.