Percival Provost T1 performance and specifications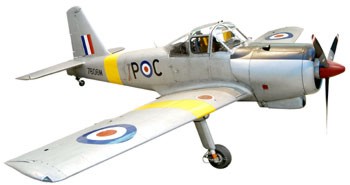 Designed by Percival Aircraft before it became part of the Hunting Group in 1954. A cantilever low-wing monoplane with fixed tailwheel landing gear and powered by an Alvis Leonides 126 engine, it provided side-by-side seating for instructor and pupil. Three prototypes were built, two powered initially by the Armstrong Siddeley Cheetah I8, the other Cheetah-engined prototype flying on the 24th by an Alvis Leonides, the first February
Adopted as the RAF's basic trainer in 1953 superseding the Percival Prentice in Flying Training Command, the Provost remained in service in that role until replaced by a development of the design, the Jet Provost, in 1961.

The Provost was selected for production following competitive trials with the Handley Page HPR2. The first flight took place on 24 February 1950. Of the 15 companies involved in the fierce competition for design approval, Percival led the pack because it had privately developed a mockup trainer that anticipated many of the RAF's requirements. Called the P.56, the Percival entry also had the edge because their early start made them the only firm able to meet the time limits specified by the RAF for delivery of a prototype. Thus, an initial order for 200 of the aircraft was placed with Percival in May, 1951.

First production deliveries were made to the Central Flying School. The first Flying Training School (FTS) to be so equipped was No.6 FTS at Ternhill in October 1953. Other FTSs equipped were at Syerston, Hullavington, Feltwell and Worksop.

The Provost proved to be a popular machine with good aerobatic qualities and 397 aircraft were delivered to the RAF.

The Provost was the last piston engined basic trainer to be used by the RAF. The last training unit re-equipped with a jet-powered version of the design, called the Jet Provost, in August 1961 but a few Provosts lingered on until the last one was retired in November 1969.
Specifications:
Engine: One 550-hp Alvis Leonides 126 radial piston engine
Weight: Empty 3,350 lbs., Max Takeoff 4,400 lbs.
Wing Span: 35ft. 2in.
Length: 28ft. 8in.
Height: 12ft. 2.5in.
Performance:
Maximum Speed: 200 mph
Ceiling: 22,500 ft.
Range: 648 miles
Armament: None
Number Built: 461
Number Still Airworthy: Approximately 5