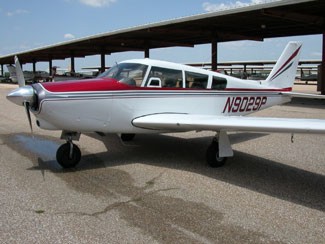 Make and Model Description
The Piper PA-24 was first introduced in 1958. A sleek four place retractable aircraft that was the top of Piper's single engine general aviation aircraft of the time. Initially there were two versions of the aircraft, a 250 HP and a 180 HP. In 1964 Piper introduced an eight cylinder 400 HP speed demon. In 1966 the Comanche came out as a fuel injected 260 HP 4-6 place aircraft. This model is easy to spot because of its extra side window.

The relatively low profile and streamlined body contributed to its efficiency and only the Beechcraft Bonanza was capable of such remarkable performance. The 260 HP version hums along at a cruise speed of 185 mph sand stalls at 67 mph. It has a ceiling of 19,800 and a range of 1100 miles and can land comfortably in just over a thousand feet.

When you compare the Comanche with other singles it has a maximum gross weight of 3,100 lbs which compares with the Cessna 182 but with retractable gear the Comanche cruises almost thirty miles per hour faster than the Cessna.

Everyone who flies the Comanche loves its responsive handling and its large wing span seems to give a better ride. It has gained a reputation for low maintenance and its rugged undercarriage is among the sturdiest of retractable singles.

A combined total of 3,686 of the 180 HP and 250 HP models were built between 1958 and 1964. Between 1965 and 1972 1,027 260 HP models were built. Only 148 of the 400 HP models were built.
Engine and Propeller Information
Engine Type: Lycoming IO-540 - 260 HP
Propeller Type: Hartzell 2 blade
Engine Time: 380 Since overhaul
Airframe Information
Aircraft Total Time: 3850 Hours
Colour Scheme and Paint Condition: The airplane was painted in August 2003, white with maroon and grey trim.
Interior: A very nice gray leather interior was done in 1998.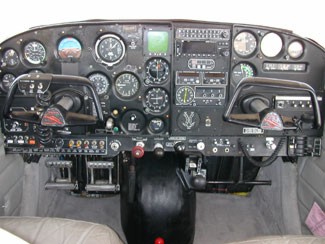 Avionics and Related Equipment
Avionics: The panel is equipped with a King KMA 24 audio panel, a Garmin 300XL GPS/Comm (IFR Certified), King KX 165 Nav/Comm, King KR 86 ADF.
Autopilot: S-Tec 50 coupled autopilot
Weather Avoidance Equipment: WX 900 Stormscope
Flight Planning and Mission Profile
Max Gross Weight: 3100 lbs.
Empty Weight: 1860 lbs.
Fuel Capacity: 90 gal.
Max Payload: 1240 lbs..

Flight Characteristics
Rate of Climb: 1370 fpm
Max Cruise Altitude: 20,000
Stall Speed: 53 knots

General Comments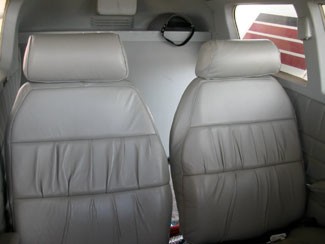 This is one fine Comanche with excellent avionics. and the interior is very good. The exterior is white with maroon and grey trim. It has a coupled S-Tec 50 autopilot with altitude hold, electric trim, six probe EGT/CHT, four-place intercom, dual strobes, and MetCo wingtips.

N9029P is a 1966 Piper Comanche PA24-260B with a total of 3850 hours total time. The Lycoming IO-540 was factory overhauled in 2002 and has 380 hours on it. The logbooks are complete and all ADs have been complied with. Recent work includes new main tires, new left aux fuel tank, new battery, left muffler, and front seats reupholstered.

With full fuel (90 gallons) we can carry 850+ pounds approximately 950 NM with VFR reserves. Cruise is typically 160 knots at 75% power. Climb performance is usually brisk and it is not unusual to see in excess of 1000 fpm with good visibility over the nose. Takeoff distance to clear a 50 ft obstacle is 1400 feet with a ground roll of only 760 feet. The landing roll is typically under 1,000 feet with speed properly managed on approach (100 mph on final with 80 mph over the fence).

Everybody says the Comanche is hard to land because of its short landing gear. Let's see if that's true. On the runway, full power, brisk acceleration and rotate 80 mph. Positive rate of climb. Gear up. Power reduction to 25" and 2500 rpm and watch the climb rate exceed 1300 fpm. Turn crosswind and downwind. Gear down. Mixture Rich. Fuel pump on. 16". One notch of flaps. Turn base. Full flaps 100 mph. Turn final. Prop high rpm. Try 80 mph over the numbers, and... chirp... a greaser!

"Nice landing. 80 mph does it every time at our weight."

So much for the reputation. Like most aircraft good landings are a combination of precise speed management and figuring out when to flare and hold it.

This time we go up to 5,000 feet, level off, set the power at 23 inches and 2500 rpm, and trim for level flight. The airplane quickly accelerates to 162 knots. The control forces are light and responsive and the airplane feels solid. I look around the cockpit and get the feeling of roominess and comfort that tells me taking trips in this airplane would be a pleasure. We do a little air-work, slow flight, some stalls, and find no surprises. Then it's back to the airport for some more landings. Okay, they weren't all as good as the first one. I dropped it in a couple of times with a little thump, but the gear is forgiving and no damage is done. I think the trick would be in flying this airplane a lot, something that you wouldn't have to twist my arm to do.