Robin Régent 2004 specs aircraft performance and specifications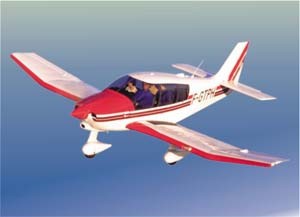 The Robin 160 and Robin 180 are 4-seat cross-country aircraft offering a unique combination of

high performance, comfort and operating economy. They have superior cruising speeds and ranges to most of their competitors while their fixed gear and fixed-pitch propellers make them dependable and easy to handle. Three fuel tanks with a 190 litres total capacity and an externally accessible luggage compartment are part of the standard.

| | | | | |
| --- | --- | --- | --- | --- |
| | | Robin 160 | | Robin 180 |
| | | | | |
| | | 4 | | 4 |
| Engine, Lycoming | | O-320, 160 hp | | O-360, 180 hp |
| Hélice Propeller, Sensenich | | fixed pitch | | fixed pitch |
| Gross weight | | 2315 lb | | 2425 lb |
| Useful load | | 996 lb | | 1080 lb |
| Wing span | | 28 ft 7 in | | 28 ft 7 in |
| Max.cruise, at 75% power, best altitude | | 132 kt | | 140 kt |
| Climbing speed, sea level, at MTOW | | 4,25 m/s (836 ft/min) | | 4,5 m/s (885 ft/min) |
| Max. range, at 65% power, best altitude | | 813 NM | | 753 NM |
| Max. range, at 65% power with optional 50 l tank, best altitude | | 1026 NM | | 950 NM |
| Take-off distance, over 50 ft obstacle | | 1936 ft | | 1690 ft |
| Landing distance, over 50 ft obstacle | | 1788 ft | | 1739 ft |