Robin DR 100 to DR 500 series aircraft performance and specifications
Four/five seat light aircraft
The Robin DR 400 series of light aircraft owes its origins to the Jodel series of wooden construction light aircraft.
Avions Pierre Robin was formed by Pierre Robin and the principle designer of Jodel Aircraft, Jean Delemontez, in October 1957 as Centre Est Aeronautique. The company's initial production was of developments of the basic Jodel series of tail draggers, and it was these aircraft that evolved into the DR 400 series. Initial production was of the DR 100 and the DR 1050/1051, while the DR 220, DR 221 and DR 250 featured the Jodel's basic wing with a four seat fuselage. The final links between the Jodels and the DR 400 were the DR 253 and DR 300 series, tricycle developments of the DR 220 series.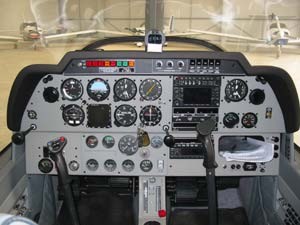 First flight of the DR 400 occurred during June 1972, both a DR 400/125 and a DR 400/180 taking flight that month.
Since that time a number of developments have been offered. The least powerful version is the DR 400/120, and it remains in production today as the DR 400/120 Dauphin 2+2. Powered by an 84kW (112hp) O235, the DR 400/120 is really a two seater, although it can seat two children on a rear bench seat. The DR 400/125i has a 93kW (125hp) fuel injected IO-240 and was revealed in 1995. The DR 400/140 Dauphin is powered by a 120kW (160hp) O320 and is a full four seater. The four seat DR 400/160 Chevalier meanwhile also features a 120kW (160hp) Lycoming O320 and seats four. It first flew in June 1972. With a different prop, more fuel capacity and slightly different wing it became the DR 400/160 Major from 1980.
The four/five seat DR 400/180 Regent and DR 400 Remo 180R are powered by the 135kW (180hp) (Textron) Lycoming O360, the Remo being optimised for glider towing. Also optimised for glider tug work is the DR 400/200R Remo 200, the most powerful DR 400 model (powered by a 150kW/200hp IO360, driving a constant speed prop).
The DR 500 President was unveiled at the 1997 Paris Airshow as the DR 400/200i. It features a 150kW (200hp) IO-360.
Powerplants
DR 400/120 Dauphin - One 84kW (112hp) (Textron) Lycoming O235L2A flat four piston engine driving a two blade fixed pitch propeller. DR 400/180 - One 135kW (180hp) Textron Lycoming O360A.
Performance
DR 400/120 - Max speed 241km/h (130kt),
max cruising speed 215km/h (116kt).
Initial rate of climb 600ft/min.
Service ceiling 12,000ft.
Range with standard fuel and no reserves at max cruising speed 860km (465nm).
DR 400/180 - Max speed 278km/h (150kt),
max cruising speed 260km/h (140kt),
economical cruising speed 245km/h (132kt).
Initial rate of climb 825ft/min.
Service ceiling 15,475ft.
Range at economical cruising speed 1450km (783nm).
Weights
DR 400/120 - Empty equipped 535kg (1180lb),
max takeoff 900kg (1985lb).
DR 400/180 - Empty equipped 600kg (1320lb),
max takeoff 1100kg (2425lb).
Dimensions
Wing span 8.72m (28ft 7in),
length 6.96m (22ft 10in),
height 2.23m (7ft 3in).
Wing area 13.6m2 (146.4sq ft).
Capacity
DR 400/120 seats two adults and two children, most other DR 400 models typically seat four adults.
Production
Over 1350 DR 400s of all variants built.