Stinson Model 105 Voyager performance and specifications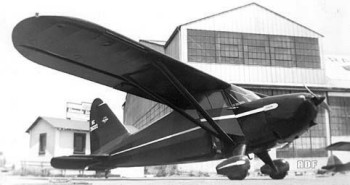 1939 Model 105 Voyager.
The Model 105 Voyager was first introduced in 1939 as the HW-75. This was an engineering designation that indicated it had a high wing and a 75hp engine. The entire airframe was fabric covered and featured a welded steel-tube fuselage, predominantly wooden wings and tail, and a steerable tailwheel. Surprisingly, the wings incorporated the advanced concepts of slotted flaps and leading edge slots to enhance low speed flight and handling characteristics. An 80 horsepower version, called the HW-80, was also offered.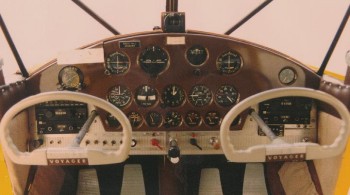 View of the instrument panel of 1948 Stinson Voyager 108-3 N6968M. This panel has an artificial horizon and directional gyro plus all other standard instruments to make it a full blind flying panel. The gyros are rebuilt units from WWII, and in fact rebuilt WWII gyros were used in all light aircraft manufactured up until the middle 1960's. Panel is shown with modern transistorized radios.
The 105 Voyager name came about as a marketing scheme in order to boost orders. Sales literature emphasized the comfort, styling, and 105 mph cruise speed while hinting at unlimited freedom and adventure. Specifically aimed at the growing personal use market, the Voyager proved quite successful and over 500 were sold. It had side-by-side seating and a third "jumpseat" in back where a passenger could ride sitting crosswise. In reality three occupants was not very practical unless the rear passenger was a child, but the extra space easily accommodated more baggage than competing 2-place designs.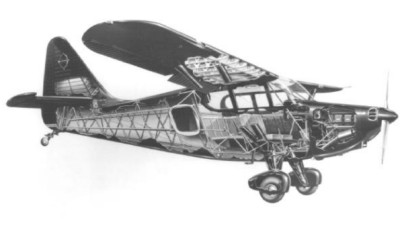 Stinson Cutaway of the Stinson 108-3 Voyager
Further refined in 1940, the Voyager was marketed in two versions: the Spartan 75hp Model 10A (HW-75) and the luxuriously appointed 90hp Model 10B (HW-90). The fuselage was widened somewhat on both models and many other small improvements were made. These versions were even more popular than the original Model 105 and over 750 were produced. Voyagers were owned by notables such as Howard Hughs, Roscoe Turner, Jimmy Stewart, Wilbur Shaw, and Edgar Bergen and these celebrities undoubtedly helped improved sales . Eventually, the design also caught the eye of the U.S. Army resulting in the Sentinel.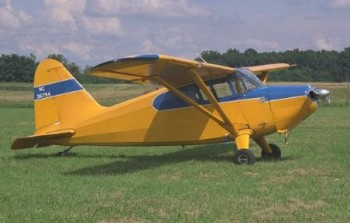 A Stinson Model 10A in standard two-tone finish
Specifications

Span: 34 ft. 0 in.
Length: 24 ft. 1 in.
Height: 8 ft. 11 1/2 in.
Weight: 2,050 lbs. max.
Armament: None
Engine: Lycoming O-435-1 of 190 hp.
Cost: $10,000
Displayed as: 42-98667
PERFORMANCE
Maximum speed: 130 mph.
Cruising speed: 90 mph.
Range: 360 miles
Service Ceiling: 15,600 ft