Aerospatiale-Socata TB-9 Tampico Club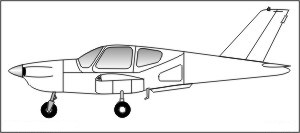 Missions
. Basic Training
. Travels
. Liaisons
. VFR amd IFR Training
Overview
The 160-HP Socata TB9 Tampico GT is the entry-level aircraft in the TB series, yet still offers all standard GT features: new design, composite canopy, flush-mounted windows, newly redesigned wingtips and enlarged baggage door.

Few aircraft used in flying schools may be described as "comfortable". But that's the word that comes up most often when talking about the TB9 flying classroom. The new TB9 offers high performance, thanks to the GT-series aerodynamic improvements, along with wheel fairings and a Sensenich propeller optimized for cruise.

A new trailing-link type fixed landing gear enables the Tampico GT to support high-cycle operation the durability demanded by flight schools.

The Tampico GT's high wing loading yields excellent response even in turbulence, and offers the solid ride of heavier aircraft. The centre console is easy to reach and controls are especially practical, making the airplane a joy to fly.
Configuration
---
Single engine
Low-wing monoplane with semi-monocoque metal construction
Certified to FAR 23, parts 1 to 16.
Seats : 2 forward, bench for 2 aft.
---

Power Plant

---

Manufacturer :

Lycoming

Type :

O-320-D2A 4 cylinders

Power rating :

160 BHP at 2,700 RPM

Recommended TBO :

2,000 hours
---

Propeller

---

Manufacturer :

Sensenich Twin Blade

Diameter :

74 in

1.88 m
---

Fuel

---

Fuel type :

100 LL

Total tank capacity :

41.7 US gal

158 l

Usable fuel capacity :

40.2 US gal

152 l
---

Oil

---

Total oil capacity :

8.45 US quarts

8 l
---

Weights

---

Average empty weight :

1,440 lbs

653 kg

Max. take off weight (MTOW) :

2,337 lbs

1,060 kg

Max. landing weight :

2,337 lbs

1,060 kg

Max. useful load :

897 lbs

407 kg

Max. luggage capacity in storage :

143 lbs

65 kg

Max. wing loading :

18.24 lbs/sq.ft

89.1 kg/m2
---

Performances
ISA conditions at max. take-off weight

---

Rate of climb (sea level - max weight):

665 ft/mn

Max. cruis. speed 6,000 ft at 70% W:

115 KTAS

Best eco.cruis.spd. 8,000 ft at 65% :

109 KTAS

Demonstrated crosswind :

25 kt

Operating ceiling :

11,000 ft

Take off over 50 ft obstacle :

1,866 ft

570 m

Landing over 50 ft obstacle :

1,378 ft

420 m
---

Dimensions

---

Wing span :

32.84 ft

10,04 m

Length :

25.33 ft

7.72 m

Height :

9.91 ft

3.02 m

Cabin length :

8.30 ft

2,53 m

Cabin width :

4.20 ft

1.28 m

Cabin height :

3.94 ft

1.20 m

Wheel track :

7.55 ft

2,30 m

Wing airfoil :

RA 16 3C3

Wing area :

128.1 sq ft (2)

11.9 m2