Aerospatiale-Socata TB-21 Trinidad turbo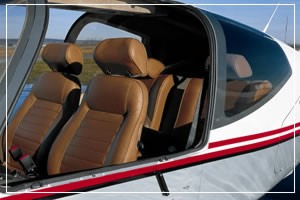 Advanced Training
IFR Training
Surveillance
Travel
High-speed long distance liaison
The Socata Trinidad GT is the perfect single-engine plane for long trips. It carries enough fuel for nearly five hours of flight, and offers a maximum range in total security.

The TB 21 GT's turbocharger means high altitudes to conserve fuel. At flight levels where winds are more favourable, you can cruise at higher speed and over bad weather.

The Socata Trinidad GT also offers a generous baggage compartment, accessible from the cabin and holds 143 lbs (65 Kg). Removing the rear bench converts the Trinidad into a cargo version, with payload capacity of 55 lbs (250 Kg).
---
---
Single Engine
Low-wing monoplane with semi-monocoque metal construction
Certified to FAR 23, amendments 1 to 16 for VFR or IFR operations
subject to equipment
Additional Benefits to include
Single wing spar
Tilt out panel for easy access to avionics
Triple anti-corrosion protection
Seats : 2 forward, bench for 2 or 3 aft
---

Powerplant

---

Manufacturer :

Lycoming

Type :

TIO-540-AB1AD Turbocharged

Power Rating :

250 HP at 2,575 RPM

Recommended TBO :

2,000 hours
---

Manufacturer :

Hartzell

Diameter :

80 in

2.03 m

Type :

Constant speed

Blades :

2
---

---

Fuel type :

100 LL

Total tank capacity :

88.8 US gal

336 l

Usable fuel capacity :

86.2 US gal

326 l
---

Total oil capacity :

13.3 US quarts

12,6 l
---

Weights

---

Operating empty weight :

2,011 lbs

911 kg

Max. take off weight (MTOW) :

3,080 lbs

1,400 kg

Max. landing weight :

3,080 lbs

1,400 kg

Max. useful load :

1,226 lbs

556 kg

Max. luggage capacity in storage :

143 lbs

65 kg

Max. wing loading :

24 lbs/sq.ft

117.6 kg/m2
---

Rate of climb (sea level - max weight) :

1,126 ft/mn

Max. cruis. speed 25,000 ft at 75% :

190 KTAS

Best eco.cruis.spd 25,000 ft at 65% :

169 KTAS

Demonstrated crosswind :

25 kt

Maximum range :

1,000 Nm

Certified ceiling :

25,000 ft
---

Wing span :

32.71 ft

9.97 m

Length :

25.43 ft

7.75 m

Height :

9.35 ft

2,85 m

Wing area :

128.1 sq.ft

11.9 m2

Dihedral :

6░30

Wing airfoil :

RA16 C3

Cabin length :

8.30 ft

2,53 m

Cabin width :

4.20 ft

1.28 m

Cabin height :

3.94 ft

1.20 m

Wheel track :

7.12 ft

2,17 m