Evektor Harmony performance and specifications
Evektor Harmony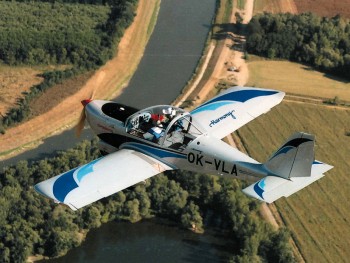 The Harmony is designed mainly for initial pilot training but also for recreational, cross-country, and sport flying with limitation to non-aerobatic operations. The airplane is certified according to JAR-VLA regulation.
Low operating costs, excellent flight features with precise handling and positive controls together with top quality and durable all metal construction predetermine the Harmony as an ideal initial pilot training airplane.
The Harmony is a two seat, single engine, all metal low wing monoplane with a fixed landing gear. The airplane is equipped with 100 hp Rotax 912 S-4 engine and fixed wooden 2 blade propeller V 230 E. Three equipment versions are available Basic, Effect and Excellent.
Dimensions

Wing span

Wing area

Length

Height

Width

Empty weight

Maximum take off weight

Max weight of baggage

Fuel tank capacity

Flight Performance

Never exceed airspeed (IAS)

Max level speed

Max. structural cruising speed

Stall speed

Max. climbing ratio

Service ceiling

Take-off run

Take-of-distance

Landing distance

Landing run

Average fuel consumption

Range