Evektor Cobra performance and specifications
Evektor Cobra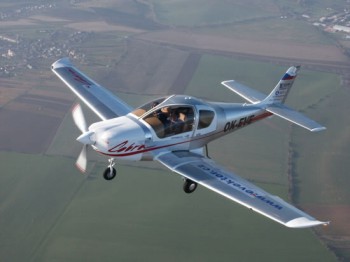 The VUT100 COBRA is a new light, multi-purpose, all-metal airplane.
The airplane is designed for:
touring and sport/pleasure flying

basic and advanced training of private and military pilots

night flight and instrument flight training

private and business travelling

aero-towing and other special purposes

general commercial use
A modern, fast and economic airplane. The airplane shape was designed and optimized with respect to the best possible aerodynamic characteristics. Controllability, stability, speed and excellent flight characteristics were the main objectives in designing the airplane shape.
The VUT 100 Cobra will be available in two versions differing by the power units. The VUT 100-120i is equipped with a Lycoming IO-360-A (200HP) and mt-propeller MTW-12. The VUT 100-131i is equipped with a Lycoming IO-580-B (300HP) and the mt-propeller MTV-9.
An integral part of the airplane design is to obtain the lowest possible costs from the ownership point of view. From the very beginning it was designed to enable easy and fast access to those parts of the airframe which require inspections and maintenance. The number of nodes which require inspections and adjustment were minimized. Operating the airplane in a mode without overhauls means considerable decrease of inspection and maintenance costs and therefore reduction of ownership costs.
General dimensions

Length

26.3 ft (8 m)

Wing span

33.5 ft (10.2 m)

Internal dimension

Cabin length

115 in (2.9 m)

Cabin width

51.5 in (1.31 m)

Cabin height

48 in (1.22 m)

Seats

4/5

Powerplant

Engine

Lycoming IO-360-A

Lycoming IO-580-B

Power

200 hp

300 hp

Propeller

mt-propeller MTV-12

mt-propeller MTV-9

Diameter

72 in (183 cm)

77 in (195 cm)

Type

3 blade, constant speed

Weights

Max. take-off

2 930 lb (1 330 kg)

3 200 lb (1 450 kg)

Useful load

1 105 lb (500 kg)

1 260 lb (570 kg)

Fuel - usable

90U.S.galls (340 litres)

Load factors

+3.8g -1.52g (Normal category airplane) /
+4.4g -1.76g (Utility category airplane)

Performance

Max. level speed

155 kts (287 km/h)

175 kts (324 km/h)

Max. rate of climb

1 000 fpm (5 m/s)

Stall speed

50 kts (93 km)

55 kts (103 km)

Range

1 080 nm (2 000 km)

1 000 nm (1 830 km)

Endurance

8 hours

6 hours

All data in this table is preliminary and may be changed any time without notice.