The Miles Aircraft organisation had a policy to prove their theories by practical tests, rather than to arrive at conclusions on paper and then let matters take their course. This meant that they could state what designs were actually like rather than what they would hopefully be like.

In pursuance of this policy the thirteenth basic Miles design was intended to serve as a flying scale research model to test certain aerodynamic theories and also to be flown by Mr. Miles in the 1937 King's Cup Air Race.

Known as the Hobby, this small low-wing coupé monoplane had a span of 21 ft 5 ins, and a wing area of only 78 sq. ft - less than half the wing area of the celebrated Hawk.

Although the machine was present at Hatfield on the day of the Race, last-minute difficulties with its retracting undercarriage had prevented its completion in time to qualify as a competitor, much to the disappointment of Mr. Miles.

However, after the completion of the intended experiments, the machine was purchased by the Royal Aircraft Establishment, Farnborough, as the small dimensions permitted its use in the large wind-tunnel there. Considerable information of the utmost importance was gained from the Farnborough tests, tests made doubly useful by the fact that the results could be cross-checked by actual flight trials.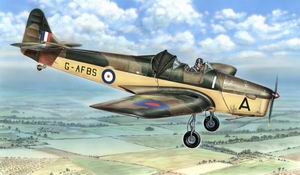 Design Company:

Phillips & Powis Aircraft Ltd

First Flight:

4 September 1937

M.13 Hobby:

1 - Phillips & Powis, Woodley

Type Specification

Applies to:

Miles M.13 Hobby

Type:

Single seat racer for F.G.Miles

Wing:

Low wing cantilever monoplane of spruce structure covered in plywood. Wing tapers from root to tip. Split flaps fitted as standard

Fuselage:

Fuselage of spruce structure with plywood covering

Tail Unit:

Cantilever tailplane with elevator at top of fuselage with single fin and rudder

Landing Gear:

Main gear retracts inwards into wing. Tail skid

Power Plant:

One 140 de Havilland Gipsy Major II in nose fitted with two blade variable pitch propeller

Accommodation:

Single seat for pilot in enclosed cockpit over wing trailing edge

Dimensions

Span:

21 ft 5 in

Length:

22 ft 8 in

Height:

Unknown

Wing Area:

78 sq ft

Weights

Empty:

1,140 lb

All-up:

1,527 lb

Performance

Max Speed:

207 mph