The Whitney Straight design was so popular, that Miles decided to take advantage of this and improve it even further, whilst maintaining the standard of quality and its general form.

In 1938, they produced an improved model, incorporating all the features which experience with the Whitney Straight had shown to be desirable.

The new model, which was named the Monarch, had an additional seat and was luxuriously finished both internally and externally, embodying such refinements as a fool-proof glide-control and a special one-piece moulded windscreen of increased depth. The wings, which did not fold for stowage, were interchangeable with those of the Magister, which was then in full production.

Numerous Monarchs were built and sold, but Service demands for the Master I trainer prevented production in sufficient numbers to meet the great demand. The Monarch, however, together with the Whitney Straight, gave excellent war service on R.A.F. communication duties, and many of both types were still in operation in 1944.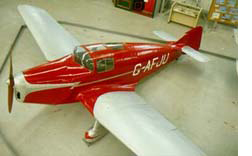 Design Company

Phillips & Powis Aircraft Ltd

First Flight:

21 February 1938

M.17 Monarch:

11 - Phillips & Powis, Woodley

Type Specification

Applies to:

Miles M.17 Monarch

Type:

Cabin monoplane, to replace Whitney Straight

Wing:

Low wing cantilever monoplane of spruce structure covered in plywood. Centre section has no dihedral and is of constant section, outer sections have dihedral and taper towards the tip. Split flaps fitted as standard

Fuselage:

Fuselage of spruce structure with plywood covering

Tail Unit:

Cantilever tailplane with elevator at top of fuselage with single fin and rudder

Landing Gear:

Fixed main wheels in fairings beneath wing. Tail wheel

Power Plant:

One 130 hp de Havilland Gipsy Major in nose

Accommodation:

Seats for three in enclosed cabin

Dimensions

Span:

35 ft 7 in

Length:

26 ft

Height:

8 ft 9 in

Wing Area:

180 sq ft

Weights

Empty:

1,390 lb

All-up:

2,150 lb

Performance

Max Speed:

140 mph

Rate of Climb:

850 ft/min

Service Ceiling:

17,400 ft

Range:

910 miles