Rearwin Skyranger Aircraft history performance and specifications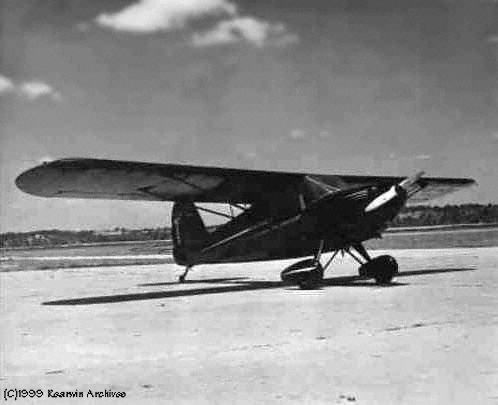 The Skyranger was certified in 1940 and was built with a variety of Continental ( & Franklin ) opposed engines, ( from 65 hp ) up to the 85HP version. ( About 85 [copies] by 1941. )

When WW II ended, Rearwin became "Commonwealth" and continued production of the Skyranger. But by November of 1946, production of the Skyranger stopped due to market pressures. Thus ending the age of the Rearwin.
Rearwin/Commonwealth Skyranger
Specifications

165

175

180

180F

185

190F

Aircraft Type Certificate

729

amendment to 729

amendment to 729

amendment to 729

Engine

Continental

Continental

Continental

Franklin
4AC-176-F3

Continental
C-185-12

Franklin
4AC-199-E3
Horsepower

65l

75

80

85

90

Wing Span

34 ft

34 ft

34 ft

Length

21 ft, 9 in

21 ft, 9 in

21 ft, 9 in

Height

6 ft, 7 in

6 ft, 7 in

6 ft, 7 in

Wheel Tread

74 in

74 in

74 in

Wing Area

164.6 sq ft

164.6 sq ft

164.6 sq ft

Wing Loading

8.2 lbs/sq ft

8.2 lbs/sq ft

8.81 lbs/sq ft

Power Loading

20.77 lbs/hp

18 lbs/hp

17.06 lbs/hp

Empty Weight

760 lbs

760 lbs

Useful Load

590 lbs

590 lbs

Gross Weight

1350 lbs

1350 lbs

1450 lbs

Baggage and Extra Equipment

100 lbs

100lbs

Fuel Capacity

24 gal

24 gal

30 gal

Fuel Consumption

4 gal/hr

4.6 gal/hr

5 gal/hr

Maximum Speed

105 mph

110 mph

114 mph

Cruising Speed

95 mph

100 mph

103 mph

Landing Speed

38 mph

38 mph

38 mph

Cruising Range

500 miles

500 miles

600 miles

Service Ceiling

12,000 ft

14,000 ft

14,000 feet

Rate of Climb

550 ft/min

625 ft/min

650 ft/min