Sukhoi SU-31 aircraft history, performance and specifications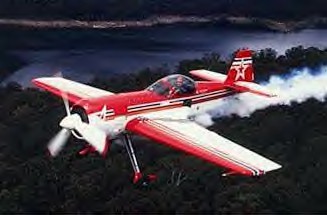 The Sukhoi Su-31 is the latest single seater from Sukhoi and its devastating performance was used to win the Breitling Championship in the hands of Yurgis Kairis. It has the highest performance of any piston engined aircraft made today, and as well as being flown by members of the Russian aerobatic team, has, since it became commercially available at the end of 1994 been ordered by the 1994 World Aerobatic Champion, Xavier de Lapparent, as well as the then current Swiss, French, Italian, Spanish, Australian and South African champions.
Although the SU-31 is physically similar to the SU-26, it is actually really quite different. The main difference being that the entire fuselage, ie everything behind the cockpit, is composite rather than tubular steel. This reduces the weight by some 30kgs, which is very significant in an aircraft of this sort. Other modifications are:
The aircraft has a similar fuel system to the SU-26 in that it has a fuselage 70 litre tank, which is the aerobatic tank. Long-range fuel tanks can be installed in the wings (total of 206 litres extra), which is very convenient, but with some weight penalty. Conversely, the extra fuel can be in long-range 'belly tanks' of different sizes.

There are 3 additional luggage areas built in the SU-31, which make it quite exceptional for an aircraft of this sort:

1. A bay behind the pilot
2. A separate compartment in front of the pilot, behind the engine
3. In a separate bay in front of the instrument panel, where a specially designed 'suitcase' can be quickly installed and then carried away from the aircraft.

In terms of flying qualities, the –31 is designed to be somewhat more unstable than the SU-26 – although this is only really a matter of degree and this makes it much more suitable for free-style flying, and certainly a great deal easier to snap-roll than the SU-26.

The canopy is side-opening, which means that it can be opened with the engine idling, which can be a great benefit in very hot weather while an aircraft is waiting for take-off.

Like all other Sukhois, the SU-31 can use either the 360hp M14P or the 400hp M14PF, although as a practicality more aircraft have the more powerful engine fitted.

The SU-31 has continued the extraordinary competition track record of the SU-26, winning successive World and European championships in both men's and women's categories.
SU-31
Specifications

Length
22.7 ft.
Height
9.1 ft.
Wingspan
27 ft.
Engine (Radial)
360+ hp
LG Track
8.0 ft.
Wheel Base
16.0 ft.
Empty Weight
1,650 lbs.
Max Load
770 lbs.
Gross Weight
2,420 lbs.
Fuel, fuselage
129.3 lbs., 20.5 gals.
Fuel, wing
351.5 lbs., 55.8 gals.
Fuel, total
480.8 lbs, 76.3 gals.
Oil
11 litres
aerobatic, 20 lbs.
Smoke
8.4 gals., 57 lbs.
G limits
+12 -10
Spar factory test
+- 23
Roll rate
400° sec.
Rate of climb
3,543 fpm
Cruise speed
High speed
185 mph
Long range
130 mph
Stall speed
66 mph
Vne
279 mph
Vmo
241 mph
Va
229 mph
Takeoff run @ sl
minimum weight

363 ft.