BX-2 Cherry


Light-weight-aircraft, 2 seats (side by side), composite-construction (lumber, Styrofoam, glass-fibre and epoxy). Low-wing monoplane with quick removable Wings and retractable nose-wheel-landing-gear. The Flap movement is transferred to the aileron in a reduced rate. Pendulum-elevator with anti-servo-flap. Nose-wheel-steering and a shock-absorber (rubber) for the nose-landing-gear. Main-landing-gear made of strands on a lumber-core, hydraulic-brakes simultaneously applied by lever. Full-sight-canopy slides opens in fwd direction. Rudder is cable-controlled, elevator- and aileron-transmission is rod controlled.
Constructional guideline

The load-assumptions, speed-rating as well as equipment were taken from the American
FAR 23 which is also valid in Switzerland.
Nevertheless the aircraft remains an "Experimental".
A Good aerodynamic was chosen to save Performance. Economy and low noise emission go along with that. Dimensions were kept compact rather than increasing wing aspect ratio for even better aerodynamics.
The construction was based on own manufacturing-facilities (welding and
painting outside).


Hangar/transportation

Permanent hangar-space is not necessary for the aircraft.
For transportation both stabilizer-halves are removable and can be stowed in the Cockpit.
Then the "Cherry" will be towed on a simple trailer and fixed. By pulling a bolt the Wings (30 Kg) can be removed and fixed on the trailer beside the fuselage.
Homebuilders requirements

The aircraft is not built in a primitive manner and requires anywhere from good up to advanced craftsmanship. The project requires about 4000 hours. Even if the prototype swallowed just 10 000 SFr till it's 1st flight (including engine and instruments) it is recommended to assign at least 20 000 SFr.

During the construction period, which takes a few years, you can easily do without travelling or other expensive activities and thus save quiet the amount of money needed for this project.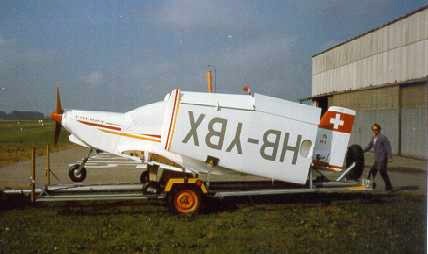 specifications
powerplant
propeller
length
height
wing span
wing area
seats
empty weight
useful load
gross weight
fuel capacity
range
Continental A 65
Brändli 1.60m
5.23m
2.02m
7.00m
8.50sq m
2
320kg
x
550kg
80litres


x
performance
takeoff distance, ground roll
rate of climb
max speed
cruise speed
landing distance, ground roll
service ceiling
300m
3m/s
x
219
x
x
limiting and recommended speeds
design manoeuvring speed (Va)
never exceed speed (Vne)
stall, power off (Vso)
landing approach speed
170
275
96
x
All specifications are based on manufacturer's calculations