Carlson Criquet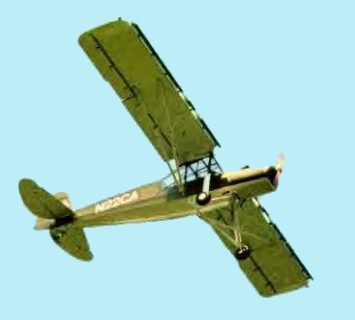 Features take-off and landing unique onto itself. This airplane responds with outstanding execution on bearing mounted controls. Uncomely in appearance and uncommon in its discipline, it is now available to you as the Carlson Criquet, a 3/4 scale of the original German Fieseler Storch.

The Carlson Wing, admired in their previous designs, has been adapted to the Criquet. It has a strong, serviceable framework holding 20 gallons of fuel in each wing (plus a header tank), maintains a slatted S.T.O.L. leading edge, and fully supports the controls necessary for low and slow manoeuvrability. Thorough testing has proven the drooping ailerons and flaps work best when controlled independent. The safety advantage when landing in uncertain cross wind conditions far outweigh the old tandem concept of long ago and its perceived benefit of using one control.

Originally designed as a utility aircraft, the possibilities of service in photo work, low level reconnaissance or related activity is immeasurable. With panoramic visibility all around and through slanted downside side windows, it can slowly descend to land with exceptionally short roll out. Truly, a joy of ultimate control on take-off and landing.

Oleo strut shocks facilitate tough field landings. The full door features a pneumatic lift to make the rear seat easily accessible. The profile images the original with its long slender cowl. Present day technological advances have affirmed this old and studied work horse full status in the present as a light weight, exceptional classic.
specifications
powerplant
propeller
length
height
wing span
wing area
seats
empty weight
useful load
gross weight
fuel capacity
range
140 HP w/ Walter Lom
x
24 ft 7

ins


8 ft 5

ins


36 ft 0

ins




x


2
1050

lbs


900

lbs


1950

lbs




x


40 gallons Plus 2 gallon header tank
x
performance
takeoff distance, ground roll
rate of climb
max speed
cruise speed
landing distance, ground roll
service ceiling
75 ft
x
x
95

mph


75 ft
x
limiting and recommended speeds
design manoeuvring speed (Va)
never exceed speed (Vne)
stall, power off (Vsl)
landing approach speed
x
135

mph


21

mph


x
All specifications are based on manufacturer's calculations