CT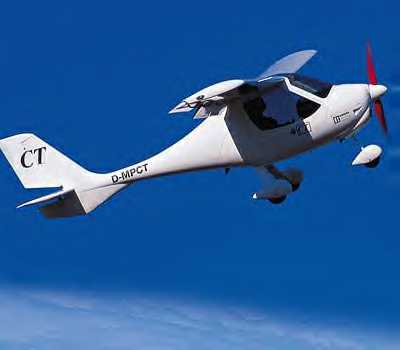 If your 6 foot 6 and weigh in the neighbourhood of 260 lbs and have a son of the same size Tom Gutman might just have the plane to fit your needs. The CT has a large roomy cabin with plenty of head and leg room. It was designed and is being built in Germany, and is one of the list of aircraft that will fit into the Sportplane category when it is introduced.
The CT is powered by the 100 hp Rotax 912 S. Cruise comes in at 130 mph, at 5300 rpm, stall comes in at 55 mph. Ready to fly the empty weight is 675. The CT has a useful load of 700 lbs. Fuel capacity 34 gallons giving it a 900 to 1000 mile cross country capability.
Standard features include, flight instruments, and the Rotax engine monitoring system the "Flydat." The control system is standard stick and rudder, with electric flaps, which when used in the negative position will increase your cruise speed by 12 mph.
The CT meets a number of stringent European design standards and has won a number of awards. At the time of writing the factory has produced over 260 planes.
specifications
powerplant
propeller
length
height
wing span
wing area
seats
empty weight
useful load
gross weight
fuel capacity
range
Rotax912 (912 C.C. 80HP ) or Rotax912S (100HP)
Ground Adjustable Composite
20 ft.4 in.
7 ft
30' 6 ft.
116 sq. ft.
2
580 lb.
x
1232 lb.
34 gal.
1000 miles
performance
takeoff distance, ground roll
rate of climb
max speed
cruise speed
landing distance, ground roll
service ceiling
x
1000ft
x
132 mph
x
x
limiting and recommended speeds
design manoeuvring speed (Va)
never exceed speed (Vne)
stall, power off (Vsl)
landing approach speed
x
192 mph
38.5 mph
x
All specifications are based on manufacturer's calculations