Excalibur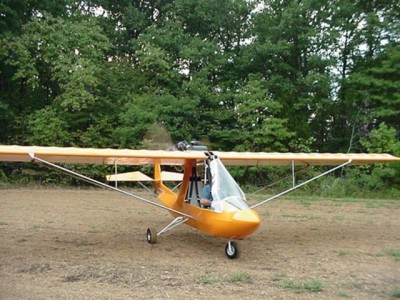 Excalibur comes with a 10 gal. tank, 68" x 32 prop, brakes, electric starter, tires, Hegar style wheels, streamlined aluminium struts, military type seat belts and shoulder harnesses. Power is supplied by a Rotax 503 air cooled 52HP engine in an upright engine installation, and comes with shock cord landing gear, fibreglass nosecone, and a clear or tinted windshield.

Only AN or Military spec hardware are used. Lightweight 1.8oz Superflight fabric is extremely popular, durable and easy to apply to the airframe, wings, and tail sections.

Excalibur has extremely responsive three axis controls, and is well suited for short field take-offs and landings. The Excalibur is also capable of soaring.
specifications
powerplant
propeller
length
height
wing span
wing area
seats
empty weight
useful load
gross weight
fuel capacity
range
Rotax 503 (52HP) air cooled
x
20 ft. 0 in.
6 ft. 0 in.
31 ft. 6 in.
173 sq.ft.
2
375 lbs.
500 lbs.


x


10 gal.


x
performance
takeoff distance, ground roll
rate of climb
max speed
cruise speed
landing distance, ground roll
service ceiling
.96 ft.solo, 196 ft. dual
1200 fpm solo, 700 ft. dual
75-90mph
50-80 mph
x
14,000 solo, 12,500 dual
limiting and recommended speeds
design manoeuvring speed (Va)
never exceed speed (Vne)
stall, power off (Vsl)
landing approach speed
x
100 mph
30-35 mph
x
All specifications are based on manufacturer's calculations