Merlin (Blue Yonder Aviation)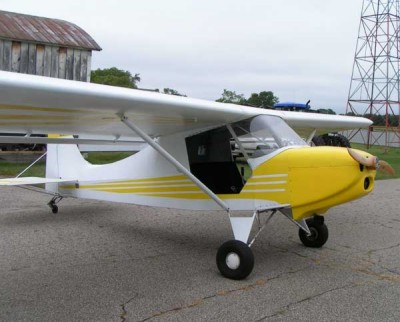 The Merlin was originally a Canadian design which was introduced in 1990, it is now being produced by Blue Yonder Aviation. It features a welded 4130 chromoly steel fuselage, and tail assembly.
The wings use aluminium D Cell construction, with Styrofoam ribs. Covering is standard aircraft covering materials. The Merlin is a taildragger, in a tractor configuration, with side by side seating. Controls are standard stick and rudder with a centre stick, separate option sticks are now available. Building times are an honest 350 to 400 hours. The company indicates testing has been done to +4 and -2Gs.
specifications
powerplant
propeller
length
height
wing span
wing area
seats
empty weight
useful load
gross weight
fuel capacity
range
x


x


23 ft.
7 ft.
35.5 ft.
235 sq. ft.
2
789 lbs.
x
1400 lbs.
32 gal.


350 n.m.
performance
takeoff distance, ground roll
rate of climb
max speed
cruise speed
landing distance, ground roll
service ceiling
x
x


100 mph.




70 mph.




175 ft.




5,000 ft.
limiting and recommended speeds
design manoeuvring speed (Va)
never exceed speed (Vne)
stall, power off (Vsl)
landing approach speed

50 ft


x


35 mph.


x
All specifications are based on manufacturer's calculations