Kolb Firestar 2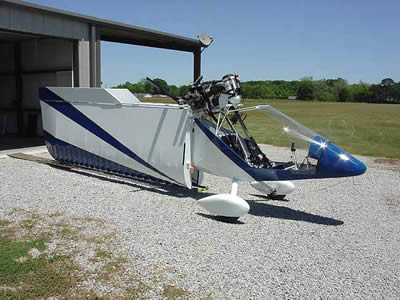 Using the 41-hp Rotax 447 and a two-blade wood prop, the Firestar will launch in a mere 125'—a grass strip is no problem—and will climb at 1000 fpm. Landing requires just 150'. Cruise is listed at 60 mph, top speed is 70 mph. Kolb advertises a sedate 29-mph stall.

The doors are removable for comfortable flying in the summer. Kolb also brags that it only takes one person to take it from trailer to the air in ten minutes, no tools necessary. Assembling the kit for the first time will take about 400 hours.

The Firestar is a docile bird with a heart and soul that begs to play... really superior ground handling couples with excellent tailwheel authority to produce one of the best STOL ultralights ever produced. It has a very good control arrangement accessed by a single centre-positioned control stick and rudder pedals. The rudder is quite dominant in this aircraft though the ailerons are plagued only moderately by adverse yaw.

The Firestar has a simple stall, little propensity to spinning, and a very docile recovery mode if forced into it. Excellent in-flight visibility makes this a particularly pleasant machine to play with, and in the hands of a somewhat skilled aviator, can be flown quite aggressively.

Still, it's an easy flyer for new ultralight jocks and the bird has few if any known surprises for an unprepared pilot. Oh yes, this bird loves short grass strips... that's where the original design was developed. A very pleasant machine, with pretty mild stability demands.
specifications
powerplant
propeller
length
height
wing span
wing area
seats
empty weight
useful load
gross weight
fuel capacity
range
Rotax 503
x


x




x


32 ft. 6 in.
162 sq. ft.
2
445 lbs.
x
970 lbs.


x




x
performance
takeoff distance, ground roll
rate of climb
max speed
cruise speed
landing distance, ground roll
service ceiling
250ft
650fpm
x
75 m.p.h.
x
x
limiting and recommended speeds
design manoeuvring speed (Va)
never exceed speed (Vne)
stall, power off (Vsl)
landing approach speed
x
100 m.p.h.
30 m.p.h.
x
All specifications are based on manufacturer's calculations