Fokker D.VII (Airdrome Airplanes)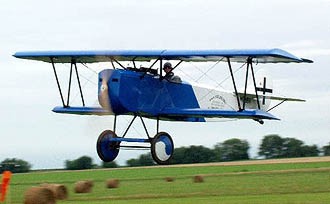 All aluminium tubing to complete fuselage, wings, landing gear, cabines, lift struts, and formers. All aluminium sheet metal to construct gussets, cowling, & seat. All machined parts for control systems, lift struts, axles, and wings. All AN hardware to build aircraft, eye bolts, locknuts, thimbles, nico press swedges , aircraft cable (rudder cables, drag/anti/drag braces). Ball bearing rod ends for control system. Stainless steel pop rivets. Main wheels, tail wheel, spun aluminium nose bowl, plans and builders video.
specifications
powerplant
propeller
length
height
wing span
wing area
seats
empty weight
useful load
gross weight
fuel capacity
range
Mercedes HP Range160/160-200
x
22.9ft
9.2ft
29.3ft
221sq. ft
1
1540lb
x
1870lb


x


150n.m
performance
takeoff distance, ground roll
rate of climb
max speed
cruise speed
landing distance, ground roll
service ceiling
x
x
117mph
x
x
x
limiting and recommended speeds
design manoeuvring speed (Va)
never exceed speed (Vne)
stall, power off (Vsl)
landing approach speed
x
x
x
x
All specifications are based on manufacturer's calculations

Design reworked by Herbert L. KeIley; aircraft may use Hispano-Suiza or WW-Il Ranger engine.