Foxtrot 4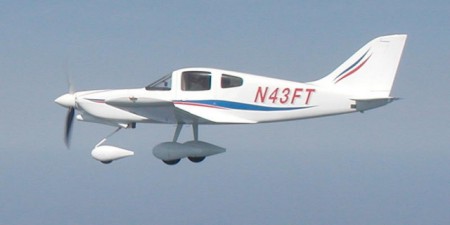 This is a new and and very promising aircraft.
Foxtrot 4 Initial Flight Report
Pilot: Denny Funnemark
Experience: 2,000 hrs
Type A/C: Military: F-4, F-5, F-15
Airline: Saab 340 General: C-172, Luscombe,
Experimental: Tango 2, Foxtrot 4
The Foxtrot 4 first flew on December 23, 2002. As of May 2003, Team Tango test pilot Denny Funnemark has accumulated over 35 hours of time on the aircraft. The speeds listed below are estimates based on wheel pants being installed on the aircraft. The Foxtrot 4 presently does not have wheel pants installed. Based on the speed increase on the Tango, the addition of these items should give the same 15 to 20 MPH increase to the speeds recorded during testing. The Foxtrot 4 is light in pitch with good stability. Roll is a little heavier than the Tango, but nimble compared to a Cessna 172 and quite stable. In cruise, the nose pretty much stays where you put it with very little trim necessary, making it a nice cross country platform. The Foxtrot 4 stalls gently at 62 MPH at 2,800 lbs, full flaps. Slow flight is easy at 75MPH.
specifications
powerplant
propeller
length
height
wing span
wing area
seats
empty weight
useful load
gross weight
fuel capacity
range

Lycoming IO-360 IO-540

260hp


x


24.8ft




7.25ft




32ft




128sq ft




4




1,400 lb




1,200 lb




2,600 lb




108 US gal




1,800miles
performance
takeoff distance, ground roll
rate of climb
max speed
cruise speed
landing distance, ground roll
service ceiling
x


3,000ft/min




230mph




218mph


x


24,000ft
limiting and recommended speeds
design manoeuvring speed (Va)
never exceed speed (Vne)
stall, power off (Vsl)
landing approach speed
x


245mph




58mph


x
All specifications are based on manufacturer's calculations