Genesis (Slipstream International)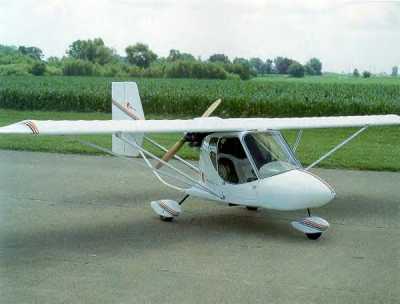 Excellent control authority, very predictable in flight, and unmatched performance for this type of aircraft.

Cross-country flights are comfortable and cost efficient. With 20 US gallons of MOGAS on board and a 4 cycle Rotax 912 using 4.0 gallons per hour, the Genesis can go the distance.
Many options are available for the Genesis.
specifications
powerplant
propeller
length
height
wing span
wing area
seats
empty weight
useful load
gross weight
fuel capacity
range
ROTAX 582E 65 hp
x


x


6'-3.5"
30'-8"
179 sq. ft.
2
650 lbs.
650 lbs.
1,300 lbs.


x




x
performance
takeoff distance, ground roll
rate of climb
max speed
cruise speed
landing distance, ground roll
service ceiling
400 ft
350 f.p.m.
x
80 m.p.h.
x
10,000 ft.
limiting and recommended speeds
design manoeuvring speed (Va)
never exceed speed (Vne)
stall, power off (Vsl)
landing approach speed
x
120 m.p.h.
45 m.p.h.
x
All specifications are based on manufacturer's calculations