GP-4 (Osprey) George Pereira designed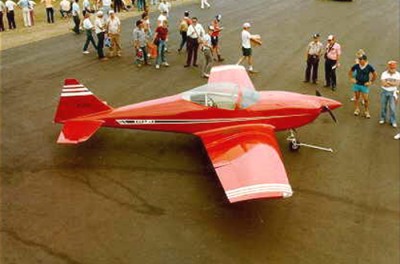 The GP-4 is the latest in a series of aircraft designed by George Pereira. It is a high performance, cross-country type plane, designed to extract the most speed from the power available, while keeping building costs within reasonable limits. With two 200 pound people, 75 pounds of baggage and 52 gallons of fuel, the GP-4 will cruise 240 mph for 1200 miles plus reserve. Fuel burn is less than 11 gallons per hour on a typical trip. Airfoil selection and drag reduction were primary considerations. The majority of the construction is of wood with foam and fibreglass used in cowling and fairing areas. Design strength at full gross is 8G's positive and 6G's negative.
This was made possible by using a massive one-piece wing spar. Detailed construction plans are available. They consist of 57 sheets, drawn with the amateur builder in mind, plus step-by-step, photo illustrated, construction manual. The GP-4 aircraft has a manual landing gear retracting system that works very well. However, you can now order a separate set of plans for a brand new designed hydraulic landing gear.
specifications
powerplant
propeller
length
height
wing span
wing area
seats
empty weight
useful load
gross weight
fuel capacity
range

x


x
21

ft

6

ins




x


24

ft


104 sq ft.
2
1260 lbs.
740 lbs.
2000 lbs.
54 Gallons
1100 miles, 240 mph
performance
takeoff distance, ground roll
rate of climb
max speed
cruise speed
landing distance, ground roll
service ceiling
600 ft
2,200 fpm
x
240 mph
1200 ft.
x
limiting and recommended speeds
design manoeuvring speed (Va)
never exceed speed (Vne)
stall, power off (Vsl)
landing approach speed
x
255 mph
70 mph
x
All specifications are based on manufacturer's calculations