GT 500 (Quicksilver)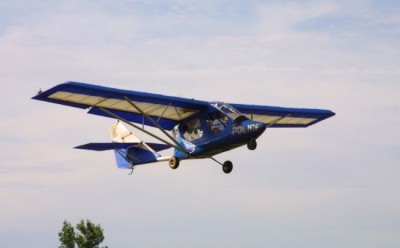 The GT 500 introduced in 1990 is a high wing, tandem seating two place, trigear, in a pusher configuration. Control is dual control yokes and rudder pedals. The craft uses bolt together aluminium tube covered in Dacron sailcloth. Building times are in the 250 to 350 hour range. The quality and finish of this kit is one of the best in the industry. To date this is the first and only aircraft to meet, by proof of compliance, our Advance ultralight standards TP 10141. It did this by proving proof of compliance to the U.S. Sport Aeroplane category. The GT 500 comes standard with the 503 Rotax engine. This is a lot like putting a 4 cylinder engine in a full size truck. The GT 500 really comes to life and shows is able to show her stuff when you power her up with a 582 or 912.

With the 582 climb at gross is a comfortable 1000 per minute, cruise at 5800 will push the needle on your airspeed to 80 m.p.h.. Stall using flaps a comfortable 35 m.p.h.
specifications
powerplant
propeller
length
height
wing span
wing area
seats
empty weight
useful load
gross weight
fuel capacity
range
Rotax 582/40 Dual CDI 65 hp
3 Blade, Carbon Fibre 72 inches 17 to 19 degrees-LH
20' 5"
6' 6"
30' 0"
155 sq. ft.
2
575 lbs.
425 lbs.
1000 lbs.
16 U.S. gal.


x
performance
takeoff distance, ground roll
rate of climb
max speed
cruise speed
landing distance, ground roll
service ceiling
220 ft.
650 fpm.
81 mph.
79 mph.
260 ft
x
limiting and recommended speeds
design manoeuvring speed (Va)
never exceed speed (Vne)
stall, power off (Vsl)
landing approach speed
90 mph.
103 mph
45 mph.
51 mph
All specifications are based on manufacturer's calculations