GT 400 (Quicksilver)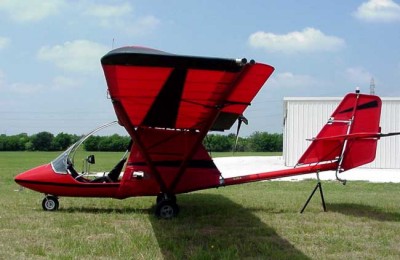 The GT 400 has spring loaded steerable nose wheel, four position flaps, state-of-the-art landing gear suspension, and a virtually vibration-free engine mount. The GT 400 has one of the lowest cockpit noise level of all ultralights tested and can cruise at 58 mph.

Other important features include tapered wings, short take-off and landing, airspeed indicator, quick set-up and breakdown, adjustable pilot seat, and extraordinary visibility from the cockpit.
The GT - 400 is delivered in easy-to-assemble-kit with an optional 50 hp 503 Rotax engine.
specifications
powerplant
propeller
length
height
wing span
wing area
seats
empty weight
useful load
gross weight
fuel capacity
range
ROTAX 447 w/Gear drive 40 hp
60" x 32"
237 in.
78 in.
30 ft
146 sq ft
1
276 lbs
276 lbs
570 lbs


x




x
performance
takeoff distance, ground roll
rate of climb
max speed
cruise speed
landing distance, ground roll
service ceiling
75 ft
1000 fpm
61 mph
x
100 ft
x
limiting and recommended speeds
design manoeuvring speed (Va)
never exceed speed (Vne)
stall, power off (Vsl)
landing approach speed
61 mph
74 mph
29 mph
x
All specifications are based on manufacturer's calculations