Hatz CB-1


The Hatz CB-1 Biplane is a two place with generous wing area - enough to make flying a pleasure on as little as 85 HP. Low landing speed, slow flight capabilities, plus a comfortable 90 mph cruise has been combined in an airplane still small enough for the homebuilder to undertake. Aircraft are plans built but many parts are available.
A straight-forward design with simple details and a minimum of time consuming jig work is the result of many hours of planning and testing.
Construction: steel tube fuselage and tail; spruce spars with truss rib wing construction; bungee shocks for the gear; 6 x 6 wheels with brakes; dual controls; space for overnight bag on shelf in front cockpit; fuel capacity 33 gallons in two tanks, or 20 gallons in one tank (centre section).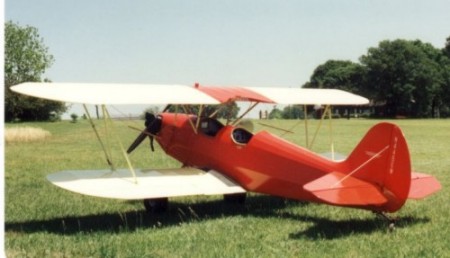 specifications
powerplant
propeller
length
height
wing span
wing area
seats
empty weight
useful load
gross weight
fuel capacity
range
Cont. 0-200 HP Range100/85-150
x
19ft
7.8ft
25.3ft
178sq. ft
2
850lb
x
1400lb
21gal
250n.m
performance
takeoff distance, ground roll
rate of climb
max speed
cruise speed
landing distance, ground roll
service ceiling
00ft
700fpm
105mph
85mph
600ft
12,000ft
limiting and recommended speeds
design manoeuvring speed (Va)
never exceed speed (Vne)
stall, power off (Vsl)
landing approach speed
x
x
38mph
x
All specifications are based on manufacturer's calculations