Headwind by Don Stewart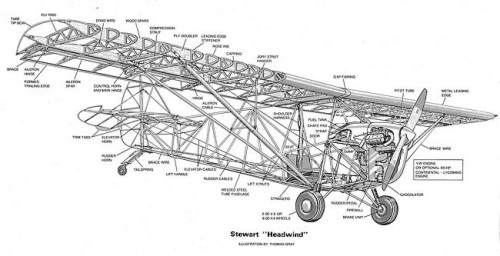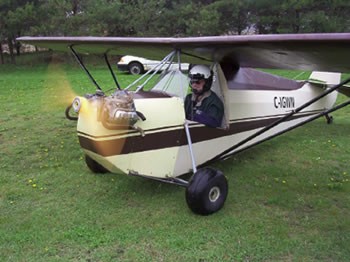 The prototype Headwind was built over a period of 5 months and was first flown on March 28, 1962. The airplane flew well right off the drawing board but in the intervening years, many structural (to simplify and make it easier to build) and aerodynamic improvements have been made to the design so that now the only part of the original design still used is the engine mount and the portion of the fuselage between the cockpit and the stabilizer. Everything else is new.

In the forty some years that the Headwind has been in existence, many examples have been built all over the world. Well over one hundred airplanes are now in service powered by a variety of engines, however, only the Volkswagen engine is shown on the plans. No other engine data is published.

The Headwind was the first design to use the Volkswagen engine in the United States and much development work was required to get the engine to it's full potential as an aircraft engine. The most important development in the engine work was the design and patenting of a propeller speed reducing unit (PSRU) to allow the engine to developed it's full horsepower.
specifications
powerplant
propeller
length
height
wing span
wing area
seats
empty weight
useful load
gross weight
fuel capacity
range
VW 1774 Horsepower: 55 hp
Great American
17' 0"
5' 9"
28' 3"
110.95 Sq. Ft.
1
x
x


x




x


Endurance 2 hours
performance
takeoff distance, ground roll
rate of climb
max speed
cruise speed
landing distance, ground roll
service ceiling

x

300ft
650 fpm
105 mph
85 mph
400ft
x
limiting and recommended speeds
design manoeuvring speed (Va)
never exceed speed (Vne)
stall, power off (Vsl)
landing approach speed
x
110 mph
38-42 mph
x
All specifications are based on manufacturer's calculations
Construction Notes:
Built by Don Gregory Mission Hills, California
Flight Characteristics:
Cub type single seater. Docile, forgiving, no surprises. Flies like a Champ or Citabria