H-2 Honey-Bee Classic Aero Enterprises


Aerobatic biplane designed by Bert Howland; first flew in 1986. The H-2A was recognized as best in the Ultralight/Lightplane category at the 1992 EAA East Coast Fly-in.
The H-2 Honey Bee, which took six months and $12,000 to build, and first flew in 1987. After flying it for 120 hours, he sold it for $15,000. At the same time, he had completed a second H-2 in a record time of four months. Like his other air-craft, the H-2 was designed around the powerplant, in this case, a 40-hp Rotax 447 turning a 68 x 28 Shettler wooden propeller.
The spunky little bipe features a 6½-inch-thick airfoil that was designed by Howland. The equal-span wings have ailerons on the bottom pair only. The leading edge spar is a D-cell of 0.040 2024-T3 web capped with double 0.040 angles, the rear spar is of similar materials in a C-section. The wing ribs, seven per wing panel, plus four in the 28-inch centre section, are of 0.020 2024-T3 sheet metal [only on first H-2].
The fuselage is a welded truss structure made of ¾-inch square 6061-T6 tubing.
Howland' says he prefers to use square tubing because of its structural strength. However, he did concede and use round 6061-T6 tubing in the tail section. The entire plane is covered with Ceconite 7600.
Wingspan of both wings is 19 feet, and chord is 4 feet, resulting in a total wing area of 152 square feet. Wing gap is 3 feet 11 inches, and N-struts are made of l-inch-diameter 0.083-wall 6061-T6 tubing. Flying and landing wires and tail braces are stainless steel. The full-span, 1-foot-chord ailerons move 20° up and down, and the 7-foot-span, l8-inch-chord elevators deflect 25° up and down. The rudder has a 30° left and right movement.
The landing gear legs are V-shaped and consist of 1-inch aluminium tubes containing 1½-inch-long, 5/8-inch-diameter, 4130 heavy-duty die spring shock absorbers and Hegar wheels with hydraulic brakes and 4.00 x 6 tires.
The steerable tailwheel system has a Gleason polyurethane wheel and 5-inch tire capable of absorbing 450 pounds of pressure~ Gear tread is 5 feet, and the wheelbase, 10 feet 9 inches.
The fuselage of the H-2 is 16 feet 6 inches long. The cockpit is 22 inches wide, but it easily accommodates a 6-foot 3-inch, 23O-pound pilot. Layout is straightforward and typically ultra-light-Spartan, with a hand-pull starter for the Rotax. A 5-gallon fuel tank is located just ahead of the cockpit, and a turtledeck/headrest is just behind.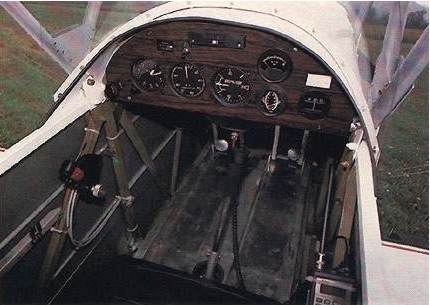 specifications
powerplant
propeller
length
height
wing span
wing area
seats
empty weight
useful load
gross weight
fuel capacity
range

Hirth F-30 or Rotax HP Range85/65-95


x


15.8ft




6.1ft




19ft




140sq. ft


1


496lb


x


750lb




12gal




130n.m
performance
takeoff distance, ground roll
rate of climb
max speed
cruise speed
landing distance, ground roll
service ceiling

150ft




700fpm




80mph




65mph




175ft




9500ft
limiting and recommended speeds
design manoeuvring speed (Va)
never exceed speed (Vne)
stall, power off (Vsl)
landing approach speed
x
x


35mph


x
All specifications are based on manufacturer's calculations