Ikarus C42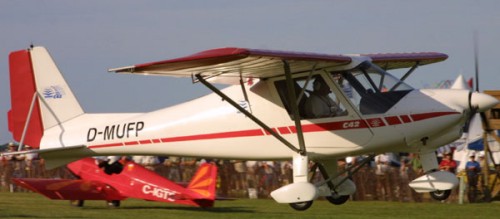 The best-selling microlight-type aircraft in Germany is the Ikarus C42, manufactured in southern Germany by the Comco-Ikarus company. The C42 was first produced in 1997, and there have now been over 400 of these aircraft delivered. At present, approximately 80 Ikarus C42's are produced annually with about 50 being sold in Germany and about 30 being delivered in other countries around the world. In Germany, the C42 now sells in almost four-times the numbers each year as its nearest competitor.

The C42 has new features and improvements for 2002! The C42 now has a more streamlined cowling with a new air intake system -- providing better efficiency and performance and incorporating an effective carb anti-icing system. The Ikarus C42 is available with several wing colour combinations and fuselage graphics packages.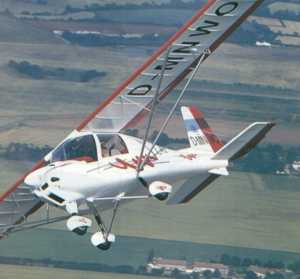 Ikarus C42 features and equipment . . .

two-seat (side-by-side), high wing, tricycle-gear aircraft


wide, roomy cockpit with great visibility


composite shell fuselage with laminated-fabric wing sails


heavy duty suspension on all three wheels


steerable nosewheel and hydraulic disk brakes on the main wheels


powered by the Rotax 912, 80-hp four-stroke, four-cylinder engine (912S 100-hp engine is optional)


three-blade Warp Drive prop with spinner


stainless steel exhaust system


special airbox design with carb heat system


cabin heater and adjustable vents in side windows


ergonomically-shaped cushioned seats


gull-wing doors equipped with gas-lift struts and doors quick-removable (for flying without doors!)


door locks and floor mats


elevator trim and flaps


aerodynamic main wheel and nosewheel pants


fuel filler cap conveniently located (no climbing on ladders!)


large instrument panel with special tilt-out design for easy access


deluxe instrumentation including: airspeed indicator, 0-20,000' precision altimeter, vertical speed indicator, Silva compass, slip indicator, electric fuel gauge, and E.I.S. digital engine monitoring system which provides for

engine rpm, oil temperature, oil pressure, water temperature, flight timer, total flight hours meter, and voltmeter (and with warning light to indicate if any engine parameter exceeds programmable limits)


includes standard fuselage graphics with many other graphics packages available


folding wings available as a low-cost option


options available include BRS parachute recovery system and Full Lotus floats


the C42 is factory-built in Germany and test-flown in Germany and the U.S. before delivery!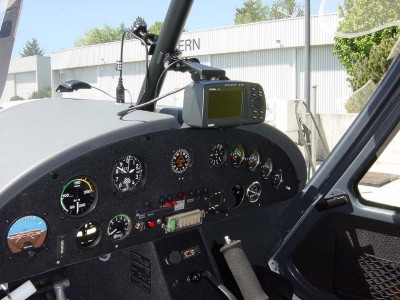 specifications
powerplant
propeller
length
height
wing span
wing area
seats
empty weight
useful load
gross weight
fuel capacity
range

Rotax 9125 100hp or

Rotax 912UL 80hp


x


20ft 4in




7ft 7in




31ft




x




x




260kg


x


450kg




50 ltr




400 miles
performance
takeoff distance, ground roll
rate of climb
max speed
cruise speed
landing distance, ground roll
service ceiling

258ft




1300fpm solo 980fpm max weight




116mph




105mph


x
x
limiting and recommended speeds
design manoeuvring speed (Va)
never exceed speed (Vne)
stall, power off (Vsl)
landing approach speed
x
x


39mph


x
All specifications are based on manufacturer's calculations