Ikarus Breezer


Low wing airplane in aluminium/mixed construction, made in Germany.
The Breezer is an aerodynamically controlled ultralight-aircraft. It is designed to be an aircraft for travelling and sports purposes. The high grade flight quality makes it advantageous not only for private persons but also for clubs and flight schools.

To fly fashionable with a well-engineered technology at a fair price/performance ratio.
Fuselage and wings made of aircraft-aluminium
Cowling, upper part of fuselage and wingtips made of glass fibre
Cockpit-hood to be opened to the rear
Easy access from the front
Hinged wings optional
Tricycle undercarriage
Steerable nose-wheel
Twin-controls, ailerons and elevators via control stick
The Breezer is to be delivered as a ready-built or a kit for individual build
Low wing airplane made of aluminium /mixed construction
Two-seater (side-by-side)
Undercarriage with 3 wheels, nose wheel steerable
Main gear glass fibre
Conventional 3-axes steering
Flaps, ailerons, elevators, rudder
4-cylinder-4-stroke liquid-cooled / air-cooled engine with opposed cylinders Rotax 912 UL version, 58 kW/80 HP, including electrical starter, electronic dual ignition, integrated reduction gearbox, carburettor preheating or optional Rotax ULS 74 kW/100 HP
Ground-adjustable 2-blade carbon-fibre propeller
Spinner (Glass fibre)
Stainless steel exhaust system
Covering aluminium, clenched, caulked, metallic finish; glass fibre parts (motor cowling, upper fuselage, wingtips): red or blue
Upholstery for seats, cockpit and luggage area made of high-value textile
Lockable cockpit-hood (dyed blue) with fresh air inlets left and right
Cabin heating
Luggage area behind the seats
Hydraulic disk brakes via brake lever in the console
Parking brake
Elevator trim
12 V plug
Flight instruments:
Altimeter , Speed indicator , Compass, Vertical speed indicator, bank indicator
Motor instruments:
RPM indicator, oil pressure indicator, CHT gauge, oil temperature gauge, fuel gauge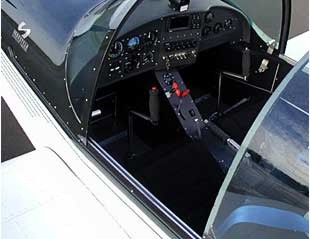 specifications

powerplant
propeller
length
height
wing span
wing area
seats
empty weight
useful load
gross weight
fuel capacity
range

80 hp


x
6,49 m
2,12 m
8,71m
11,85 sqm
2
281 kg
191,5 kg
472,5 kg


x

70 Litres
900 km

100 hp


x
6,49 m
2,12 m


8,71m


11,85 sqm
2
281 kg
191,5 kg
472,5 kg
70 Litres
900 km
performance
takeoff distance, ground roll
rate of climb
max speed
cruise speed
landing distance, ground roll
service ceiling
135 m
x
x
185 km/h
140 m
x
95 m
x
x
200 km/h
140 m
x
limiting and recommended speeds
design manoeuvring speed (Va)
never exceed speed (Vne)
stall, power off (Vsl)
landing approach speed
x
245 km/h
65 km/h
x
x
245 km/h
65 km/h
x
All specifications are based on manufacturer's calculations