Kolb Firefly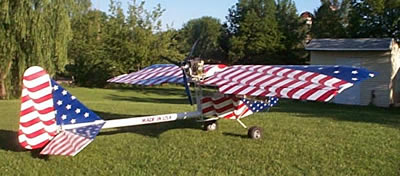 The Firefly which is a part 103 legal ultralight, when powered by the Rotax 447 engine, takes about 150 hours to build from kit form.
The FireFly was first introduced in 1995. It features a welded steel fuselage, folding wings, full span flaperons, steerable tail wheel, spring steel landing gear, 5 gallon fuel tank and 2 blade wood prop.
Options include brakes, full enclosure, ballistic parachute, instrument, composite prop, strobe light. The craft is available in several quick build kits, partial kits and fully assembled.
specifications
powerplant
propeller
length
height
wing span
wing area
seats
empty weight
useful load
gross weight
fuel capacity
range

447 Rotax


x


x




x




22 ft.




117 sq. ft.


1


250 lbs.


x


500 lbs.




x




x
performance
takeoff distance, ground roll
rate of climb
max speed
cruise speed
landing distance, ground roll
service ceiling
x
x
x


60 m.p.h.


x
x
limiting and recommended speeds
design manoeuvring speed (Va)
never exceed speed (Vne)
stall, power off (Vsl)
landing approach speed
x


80 m.p.h.




24 m.p.h.


x
All specifications are based on manufacturer's calculations