Glasair 1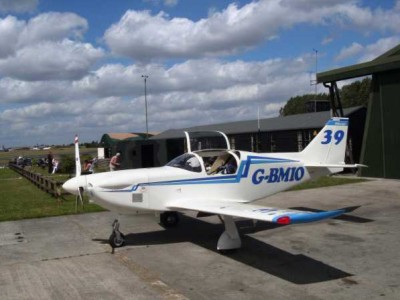 The Glasair was the first kit aircraft that used moulded surfaces rather than the Rutan method of construction. The original Glasair 1 required a very long time to construct. The original company, Stoddard Hamilton, (named after the late designer) went into liquidation due to reasons outside the Glasair range. Fortunately the company was purchased by aircraft enthusiast

Thomas W. Wathen and is now going from strength to strength. The Glasair range included a taildragger version (TD), fixed trike (FT) and a retract (RG). Wing extensions were available which improved performance at higher altitude but reduced g loadings.

The Glasair is the ideal long distance fast personal aircraft.

These aircraft are not only extremely strong, but fly better than almost any experimental. They are renowned for their handling characteristics. In addition, the resins used very rarely cause allergy problems for builders.

Performance is varied according to choice of engine, which can range from 160 hp to 200 hp.
specifications and performance figures for 200 hp variant with extended fuel tanks and no wing extensions
specifications (RG)
powerplant
propeller
length
height
wing span
wing area
seats
empty weight
useful load
gross weight
fuel capacity
range
Lyc IO 360 A1B 200 hp
3 blade Hoffmann VP wood blades


19ft 6ins




6ft 2 ins




24ft 4ins




81.3 sq ft


2


13

68

lbs


632

lbs




2000lbs

(In USA 2200lbs allowable)




61.4 Imp gal.




1177

Miles
performance
takeoff distance, ground roll
rate of climb
max speed
cruise speed
landing distance, ground roll
service ceiling
400m


1500 ft/min




2

6

0 mph


175 kts

IAS


500m
19,000ft
limiting and recommended speeds
design manoeuvring speed (Va)
never exceed speed (Vne)
stall, power off (Vsl)
landing approach speed

145 mph




260 mph




65 mph


90 mph
All specifications are based on manufacturer's calculations