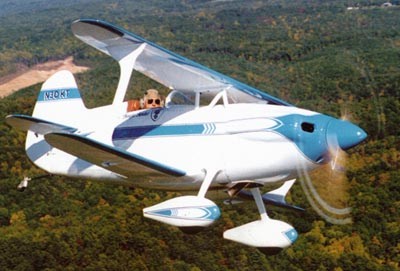 The distinctive Knight Twister is the oldest aircraft design offered by Steen Aero Lab and has quite an interesting history dating back to the late 1920s. Launched in 1928 by Vernon Payne as a way to liven up an aircraft design class he was teaching, the design draws heavily upon NACA aerodynamic research.
The Knight Twister in any version is a true thoroughbred. While it is not like the average trainer in control response, the fact is that the design simply doesn't need to be horsed around the sky. It is the kind of plane that thrives on smooth control inputs, and in return she will reward the pilot with smooth, perfectly-balanced performance. Properly-built Twisters tend to be very straightforward and easy to fly airplane with excellent performance, which give great enjoyment to their pilots.
Construction methods are conventional. The fully-cantilever wing and tail surface construction is mostly of plywood (it's too small to use a built-up truss structure efficiently) while the fuselage is built of welded steel tubing. The wings are fully cantilever and stressed to 7-9 Gs (depending upon the version) though the addition of flying wires raises the strength somewhat. Since the first flight with a 45 horsepower radial engine in 1929, the Twister has gone through at least eleven different versions and probably around 75 have been completed. The popular KT85 version appeared after World War Two and this lead to the versions available today: the "Imperial", "Holiday", "Acro" and the two-place "Coed". Power options range from 85 hp to 150 hp.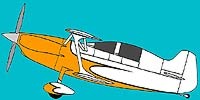 Coed
specifications
powerplant
propeller
length
height
wing span
wing area
seats
empty weight
useful load
gross weight
fuel capacity
range
Lycoming HP Range 108/85-160
x


13.5ft




5ft




15.5ft




55sq. ft


1/2


517lb


x


865lb




20gal




610n.m
performance
takeoff distance, ground roll
rate of climb
max speed
cruise speed
landing distance, ground roll
service ceiling

400ft




1800fpm




180mph




165mph




800ft


x
limiting and recommended speeds
design manoeuvring speed (Va)
never exceed speed (Vne)
stall, power off (Vsl)
landing approach speed
x
x


55mph


x
All specifications are based on manufacturer's calculations