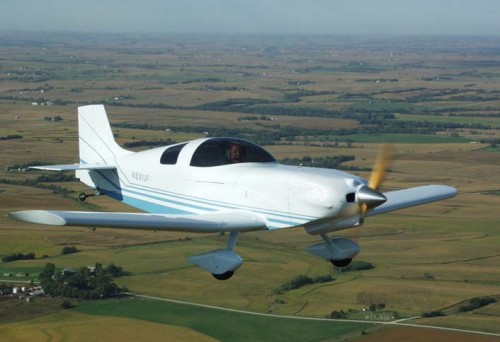 In 1993, the KR-2S (S for stretched) version was introduced along with many new options such as tri-gear, pre-moulded decks, wing skins, cowling, etc. Many engine options have been installed in the KR's, some of which include the VW, Subaru, Revmaster Jabiru and the latest craze is the Corvair auto conversion. Today the KR still continues to be very popular especially among those who desire the benefit of low cost building and high performance flying. As of March 2003, Rand Robinson has sold 6,121 sets of KR-1 plans, 9,279 sets of KR-2 plans and 1,138 sets of the KR-2S version. All in all, the KR is the best bang for your buck.
This aircraft is now supplied as a kit in either taildragger or nose wheel configuration.
Premoulded parts made of high temperature epoxy-based prepregs and all high temperature core materials

Premoulds are vacuum bagged and oven cured

Sixteen inches longer than the standard KR-2

Fixed tricycle or conventional landing gear

Additional legroom and headroom over standard KR-2
specifications
powerplant
propeller
length
height
wing span
wing area
seats
empty weight
useful load
gross weight
fuel capacity
range
VW 2180, Subaru EA-81, Continental O-200
x
16ft.


x


23ft.
82 sq. ft.
2
x
460 lbs.
980 lbs


x


1080 miles
performance
takeoff distance, ground roll
rate of climb
max speed
cruise speed
landing distance, ground roll
service ceiling
350 ft.
1200 fpm
200 mph
180 mph
600 ft.
15,000 ft.
limiting and recommended speeds
design manoeuvring speed (Va)
never exceed speed (Vne)
stall, power off (Vsl)
landing approach speed
x
x
52 mph
x
All specifications are based on manufacturer's calculations